CocoaNymph – raising the chocolate bar!
Posted by Erin Mussolum on Friday, March 19th, 2010
Tags for this Article: chocolate, cocoanymph, truffles
She sat alone draped in the seductive and warm ambience of the room. Outside the coziness of the café contrasted with slick wet streets and the bluish air of cold winter rain. Casting her eye back she nestled into her chair preparing herself for what was about to unfold. This wasn't new, it wasn't unfamiliar territory, but in so many ways it was.  With her five senses alert she knew it was time to begin. Admiring first what was placed before her, she then gracefully raised it to her lips. Immediately her mouth opened and she engulfed the heavenly delicacy with the oohs and ahhs of delight.
I had to write the beginning of this post like a romance novel because for me CocoaNymph Chocolates and Confections create the sexiest, sinful and most indulgent truffles and bars I have ever had. For me it truly was love at first bite.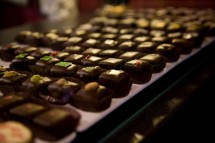 Owner and Chocolatier Rachel Sawatzky knows just what to make to seduce and score with her customers.  In her Kitsilano kitchen she produces a reoccurring line-up of individual batch chocolates that are like nothing you have ever tasted before. With flavours like "Lucy in the Chai"(a dark chocolate ganache infused with a chai spice and black tea), "Barnabus the Tortoise"(a soft caramel and milk chocolate centre, flavoured with brandy and topped with a maple glazed pecan), and one of my favorites the "Chariot of Fire"(dark chocolate ganache infused with a pepper blend and then topped with a real chili pepper), her truffles are like little pieces of art that seduce with intense flavour.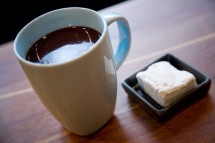 Adding to the riches, the shop offers four types of drinking chocolate.  This cup is the richest, drippiest, most opulent concoction I have ever put this set of lips on.  "Our drinking chocolate is more of a European style – it's like drinking dessert," says Sawatzky.  I completely concur. Of course this drinkable dessert is also served with a large homemade marshmallow – sexy and cute – FTW!
To understand why CocoaNymph is so successful you need to know the story of how this once pre-med student traded in her textbooks to ultimately be head scientist experimenting in her own chocolate lab.
Sawatzky began her foray into chocolate creation in 2002. She had always had a passion for baking and would often try out new recipes that she found in magazines on her friends. As a student, taking her bachelor in science focusing on microbiology with the plan to attend medical school, Sawatzky was, like most students, broke.  With only $80.00 to her name and Christmas right around the corner she was desperate. Deciding to invest her remaining cash into chocolate supplies, Sawatzky hoped to make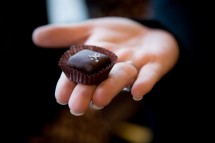 and sell 300 chocolate and sea salt truffles thereby giving her some extra cash to buy Christmas presents. Her chocolates were so successful that Sawatzky ended up making and selling over 3000 of them! Long story short – the entrepreneur later stepped away from academia for good and launched her new career as a Chocolatier.
She cites her science background as a benefit that sets her chocolate shop apart from local competitors. "I believe I'm the only one operating with a science background and it gives me a bit of an advantage because I understand chemistry and how things work together," says Sawatzky.  "The consistencies of my fillings are different, they are generally smoother and they hold together better. And the flavours hold better too because they are emulsified in a different way. I use different techniques than a lot of others."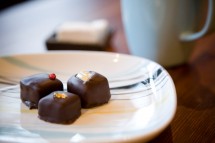 You can taste this chemistry in her work. "What makes me different is that I have a strong connection with flavour and when you taste my raspberry truffle I want you to taste raspberry, I don't want you to taste something vaguely fruity. My philosophy is that it should taste like it has an impact," says Sawatzky.
It's this attention to detail and to the science of working with chocolate that has resulted in Sawatzky's tireless efforts towards perfection. She shares that with her dark chocolate and sea salt truffles and bars it has taken her seven years to perfect them.   Now she has a hard time keeping this product on the shelf and it's this specific item that personally keeps me coming back!
During my last visit I tried the "Pumpkin" ganache truffle – which was simply amazing.  Another that is just as beautiful to look at, as to consume, is the "Liz" – it has a piece of real gold leaf on top – completely glamorous.  Then there is the "Bliss" which is a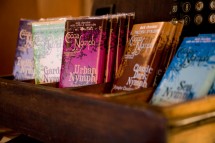 marriage of white and dark chocolate that is most certainly blissful and I guess appropriately named.
On any given day you will find a collection of these tantalizing bites and sometimes a new offering or two.   Sawatzky is consistently experimenting in her lab so there is always something new to try when visiting CocoaNymph.
CocoaNymph Chocolates and Confections has definitely raised the "chocolate bar" in Vancouver's sweet scene (pardon the pun)!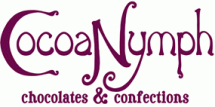 CocoaNymph is located at 3739 West 10th (at Alma)
www.cocoanymph.com
Follow on Twitter: cocoanymph
Facebook: CocoaNymph Chocolates and Confections
Photos by  www.michaelrathjen.com