Advertise
Media and Advertising
There is a sense of satisfaction when you sit down to fine food and drink, whether in a restaurant, your kitchen or anywhere else. The appreciation of quality ingredients, the pairing of food and wine, the dedication to culinary craft…it's all part of the cultivation of an enlightened appetite. Foodists.ca is a collective of like-minded gastronomists who understand your devotion to food and wine. Our motto is that we breathe and sleep in order to eat and drink. Online, our passionate community dishes on restaurant news and reviews, recipes, cooking tips and musings on the philosophy of food. Offline, we participate in and launch food and drink related events and ad hoc culinary collaboration. Foodists.ca has become a staple of the local food scene, and a unique and rich online food and drink resource. It's also a fun place to kill an hour or two…or three.
History
Foodists.ca got its start in 2005 as "In the Kitchen", the food-focused blog for Vancouver-based design company, Industrial Brand. A group of passionate cooks, they wanted to create a space to to gather the musings of their likeminded food-fanatical coworkers and friends. With its popularity growing exponentially, in January of 2009, it was re-branded and re-launched as Foodists.ca. Since then the site has enjoyed many successes, with writers clamouring to contribute, lively online discussions, events, workshops and parties.
Reader Experience
Readers can expect to come and learn about all manner of food-related topics and leave hungry. Meditations, Guidance, and Worship categories form our three-pronged approach to reviews, recipes and food philosophy and cover everything from cooking tips, reviews of out of the way restaurants, news, book reviews and more.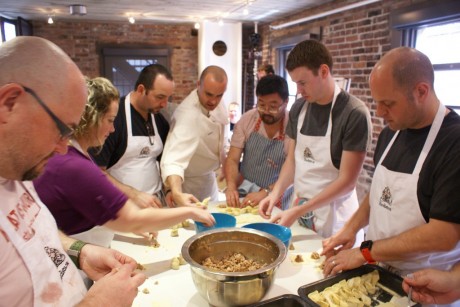 Anyone who likes to cook, or eat (so…pretty much everyone!) will find the content accessible and useful. We have cultivated a captive audience of food enthusiasts who return frequently to comment and see what's new.
Foodists online presence is also integrated to new social media such as Flickr, Facebook, Twitter and Vimeo.
The site is Vancouver-based and the majority of our contributors are too, but writers are also based in Chicago, Germany, New York, San Francisco, Los Angeles, Vancouver Island and elsewhere.
The Team
Foodists.ca is an international collective of talented writers with specializations and food obsessions that take them in and out of the kitchen on a variety of food and drink adventures. Founders and co-editors Ben Garfinkel and Mark Busse, principals at Industrial Brand, are joined at the helm by technical lead Steve Mynett.
Traffic
Traffic on Foodists.ca has been growing every month since its launch. Currently we enjoy approximately 500 unique daily hits which translate into nearly 20,000 visitors each month. Of these, 30% are from BC, 40% elsewhere in Canada and 40% from the USA.
According to a recent survey, 98% of our readers are from the Greater Vancouver area and 80% would be very likely or somewhat likely to visit a specialty store or restaurant based on a favourable review on Foodists.ca.
Readership
The Foodists community tends to be food and drink-focused with specific areas of culinary knowledge, whether that be in wine, specialty olive oil, BBQ, dim sum, etc. They are sophisticated, know what they want and are not afraid to drive around town looking for it. Thriving on new food discoveries, they appreciate food, and make eating and drinking an experience rather than an event in their lives.
65% of readers make 75% of their meals at home, are going to specialty food stores, chain supermarkets and farmer's markets to gather ingredients. However, when dining out, 62% of readers will try a new restaurant as opposed to an old favourite.
What People Are Saying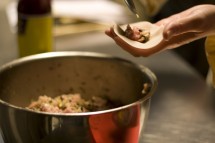 "I can't get enough of Foodists.ca, Vancouver's best food website."
– Andrew Morrison, Scout Magazine
"I love Foodists.ca for its irreverence, its playfulness, its handsome but unpretentious design, but mostly for its up-for-anything contributors who understand that knowledge is a barrier to learning."
– Don Dickson, South China Seas
"Foodists.ca is a community of very passionate individuals. As a marketing consultant, I'm always looking for clever ways to promote my clients' products and services. In the case of one client, we really wanted foodies to know about a line of products for professional and home chefs. Being part of Foodists was an immediate win. The Foodists team were very helpful in talking about the ad specs but also in offering suggestions for further promotions and interaction with the site members. Everything went smoothly and I wouldn't hesitate to advertise here again."
– Anthony Nicalo, Dajoji
"I have been to your site half a dozen times now, and this time I am adding it to my bookmarks. Your pages are always relevant, unlike the same-old stuff on other sites (which are coming off my bookmarks!) Two thumbs up!"
– Brande Nolan, Reader
Advertise With Us
Quite simply, Foodists is not a venue for, or about, advertising for mainstream mass appeal. Rather, we are a growing niche of food fanatical types that really care about what goes in our kitchens, pots and ultimately mouths. Advertising on Foodists.ca represents a unique opportunity for your company to reach an audience of eager, reasonably affluent and food worshippers. Our readers and writers are people who will travel across town for the perfect ingredient and seek out the best dining experiences, products and services. Once found, we want to enlighten and share.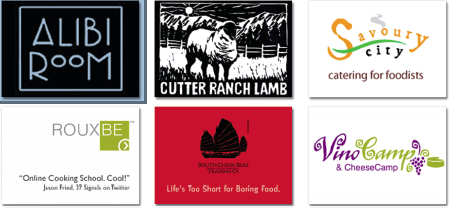 Foodists.ca advertising space is reserved for food and wine based companies, products, services and events. Currently, advertising on the site is in the area above the fold on the left side of the page and visible on all internal pages. All ads are rotated and displayed in this area at standard rates. However, we are pleased to consider and create customized advertising and promotional opportunities. Contact us for more details.
Rates
Please contact us for rates and options.
Contact Us
Mark Busse and Ben Garfinkel, Founders
Suite 106 – 336 East 1st Ave
Vancouver, BC, V5T 4R6, CANADA
Tel +1 604 737 1958
Fax +1 604 737 4347
Email: [email protected]
Submissions, Sales and Advertising
Mark Busse and Ben Garfinkel, Founders
Tel +1 604 737 1958
Email: [email protected]