Whole Foods Launches Brain Food Speakers Series
Posted by Mark Busse on Wednesday, May 27th, 2015
Tags for this Article: speaker series, vancouver, Whole Foods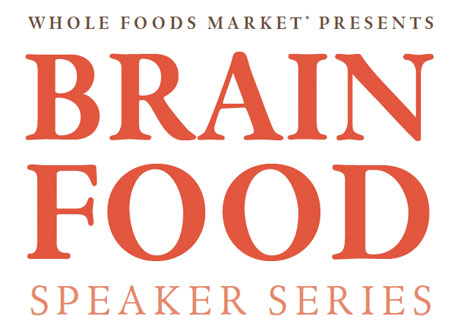 How would you like to spend an afternoon with some of Vancouver's most innovative, inspiring, and creative minds who work with food to innovate, unite, and create change? Right? Well thanks to Whole Foods Markets, you can! Introducing Brain Food Speakers Series.
Inspired by speaker events like TED, Whole Foods decided to invite the best and brightest in the local food business together to share their stories and how they got to where they are today. The format is intended to be low on the self promotion and high on the inspiration. Everyone will go home excited about discovering innovative new things happening in the Vancouver are food scene.
So far confirmed speakers include:
Jackie Ellis Owner of Beacoup Bakery, Travel Writer, and Pastry Chef
Aart Schuurman Hess CEO of the Greater Vancouver Food Bank
Dai Manuel Entrepreneur, Blogger, & Motivational Speaker
Emily Jubenvill Manager of the Edible Garden Project
Jen Rustemeyer Blogger, Award-winning Filmmaker
Meeru Dhalwal  Author, Chef, Restaurateur
Michael Markwick Ph. D, Anti-Homelessness advocate, and Tedx Speaker
Zach Berman Co-Founder & Owner of The Juice Truck
The event is presented by Whole Foods Market, sponsored by Vega and supported by Left Coast Naturals. Oh, did we mention there will be refreshments and snacks provided? So whether you're a culinary creators, food bloggers, entrepreneur, activists, authors, or whatever, if you're as food-obsessed as we are, you're going to want to be in the audience at UBC's Chan Centre for this delicious event!
Date
Sunday, May 31st at 11am
Location
UBC Chan Centre for the Performing Arts
6265 Crescent Road, Vancouver
Tickets
Your $30 ticket benefits the Whole Kids Foundation.
Get your tickets HERE (but act fast as there aren't many left)