Koryo Saram Carrot Salad
Posted by Elena Yugai on Wednesday, June 12th, 2013
Tags for this Article: Appetizers, asian, Korean, Salad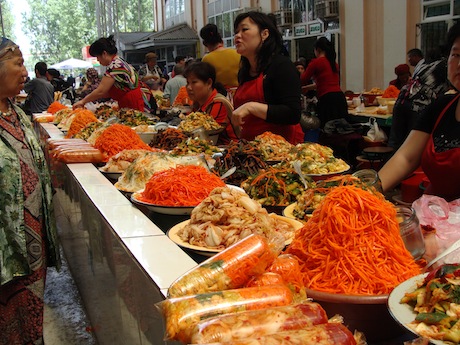 Koreans in Russia and other former Soviet Republics, or Koryo Saram as they call themselves, are the oldest Korean diaspora in the world, having migrated to Russia from Korea in late 19th century. Their cuisine is a unique blend of Korean, Russian, and Central Asian flavours. And even though most Koryo Saram today don't speak Korean or observe most of the Korean traditions, their food remains as one of the few unchanged cultural elements.
One of their most recognized culinary contributions is the Carrot Salad, or Morkov Cha. You can find it in virtually every supermarket, bazaar or market across Eurasia. It even made its way to Russian food stores in North America, including every Russian store in Vancouver. It's an easy to prepare, delightfully crunchy, sweet and sour dish, that can be served as a side, a topping for sandwiches or rice or on its own.
If you want to know more about Koryo Saram history and culinary culture, visit UBC Koryo Saram Studies Workshop on June 27, 2013.
Ingredients
1 kg (2.5 lbs) carrots (choose extra large carrots for easier slicing)
3 ts salt
2 Tbs sugar
5+ cloves of minced garlic
2 Tbs hot red pepper flakes
2 med onions
1 Tbs 70% white vinegar OR 10 Tbs of 5% vinegar
1/3 cup vegetable oil
Cilantro (optional)
1 Tbs sesame seeds (optional)
To prepare
Julienne carrots on a mandolin slicer in thin long strips. It's looks best when it resembles orange spaghetti.
Sprinkle generously with salt and set aside for 10 – 20 minutes.
Gently squeeze the water out of julienned carrots. Add sugar and vinegar. I buy 70% white vinegar in Russian stores just for Koryo Saram salads, but you can use larger quantities of regular 5% vinegar typically sold in North American supermarkets.
Dice the onions.
Heat vegetable oil on medium high heat. Add the onions and sauté until they are golden in colour. Add hot red pepper flakes, stir once and remove from heat. Pour this seasoned hot oil over carrots. Sprinkle with sesame seeds, chopped cilantro and finely minced garlic. Mix well. Adjust seasonings: vinegar for sour taste, sugar for sweetness. You should just under-season, because flavours will bloom after a few hours marinating in the fridge.
Let the carrot salad marinate in the fridge for at least an hour before serving. Store in an airtight container in the refrigerator for up to a week.