Film and Feast – an exciting event from Yash & Winner Winner
Posted by Evan Leeson on Wednesday, April 2nd, 2014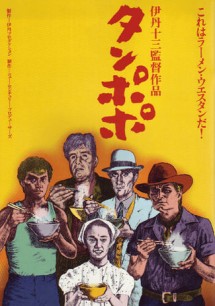 We foodists are always looking for new ways to celebrate food and food culture. We've been kicking around the idea of doing a food-focussed film festival and, lo-and-behold, some very talented Vancouver Chefs are doing something very cool in that area. Read on for the details of Film Feast, a pop-up movie-house restaurant featuring the amazing film Tampopo.
Film Feast is a peculiar pop-up that pairs an appetite-inducing movie with impassioned food. Winner Winner takes inspiration from Tampopo, a film about the quest for the perfect bowl of ramen, to serve their delicious duck ramen dinner. Presented by Yash and Winner Winner, this intimate and entertaining pop-up event is guaranteed to produce plenty of laughs and foodgasms, just be careful when slurping the broth.
ON THE MENU: 
Nori Popcorn
Winner Winner's Ahirun (duck) Ramen with Nukazuke Pickles
Butter Mochi Cake
Winner Winner consists of three seasoned restaurant industry professionals; Chen-Wei Lee (Wildebeest, Blacktail Florist), Stanley Yung (Dirty Apron) and Alain Chow (Bao Bei). They made their debut together this past summer at the Vancouver Chinatown Night Market, dishing out an unforgettably fine-tuned Singaporean chicken rice.
Growing up, Winner Winner favoured playing duck hunt to reading the tale of the three little pigs. Their ramen pays respect to the duck by resting it over a bed of hand-rolled noodles nestled in rich broth. Don't miss out – this one-night-only pop-up dinner will fly away.
 *bar available
ON THE SCREEN: 
Tampopo – a ramen western / Director Juzo Itami / 1985
"First, observe the bowl. Appreciate its gestalt. Savor the aromas. Jewels of fat glittering on the surface. Sinachiku roots shinning. Seaweed slowly sinking. Spring onions floating. Concentrate on the three duck slices… They play the key role, but stay modestly hidden. First caress the surface with the chopstick tips. 'What for?' To express affection. 'I see.' Then poke the duck. 'Eat the duck first?' No. Just touch it. Caress it with the chopstick tips. Gently pick it up and dip it into the soup on the right of the bowl. What's important here is to apologise to the duck by saying… "See you soon."
Reviews –
"Four Stars" – Roger Ebert

"The movie is a rambunctious mixture of the bawdy and sublime. Tampopo is perhaps the funniest movie about the connection between food and sex ever made." – The Washington Post

"A self-assured gem constructed like the bowl of classic ramen the characters strive to cook: a collection of individual parts perfectly arranged." – The Guardian
In the age of instant information, we recommend leaving room for anticipation by not watching the trailer. If you absolutely must, then you can watch it here.
Buy your tickets on Eventbrite.
See you there!