Winemaker's Grape Cake
Posted by Karen Pinchin on Wednesday, January 23rd, 2013
Tags for this Article: best, best cooking school Provence, bistro, cooking classes, cooking school, grape, olive, olive oil, Provence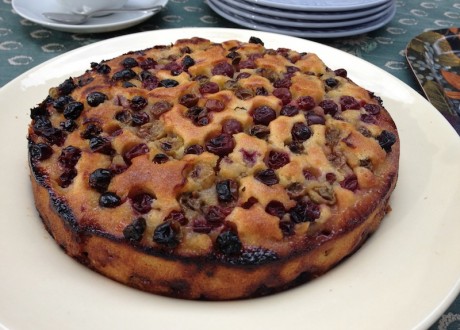 If you aren't familiar with Patricia Wells, you should be. She's the doyenne of bistro cuisine, and runs what I've heard is the best cooking school in Provence. She has a pied-à-terre in Paris where she also hosts cooking classes, but if you look at her photos online, you can tell her heart is in Provence.
Her cooking classes for 2013 are nearly full, but if you want a taste for the quality of her recipes then look no further than her Winemaker's Grape Cake. This one is from her 1996 cookbook Patricia Wells at Home in Provence, and was given to her by Rolando Beramendi.
To be in Provence in the fall is to be surrounded by incredible amounts of grapes, and this recipe is a fabulous way to use those grapes. As Wells notes, the incredible texture of this cake comes from the half butter, half olive oil mixture. It's also not too sweet, so is great for brunch.
A note on the grapes: you can use seedless, but Wells recommends trying small seeded grapes like Zinfandel or Cabernet for a bit of "rustic crunch." I've had this cake with both kinds, and have to side with Wells on this one.
2 large eggs, at room temperature
2/3 cup (135 g) sugar
4 tablespoons (2 ounces; 60 g) unsalted butter, melted
1/4 cup extra-virgin olive oil
1/3 cup whole milk
1/2 teaspoon pure vanilla extract
1 1/2 cups (200 g) unbleached all-purpose flour
3/4 teaspoon baking powder
A pinch of sea salt
Grated zest of 1 lemon
Grated zest of 1 orange
10 ounces (300 g) small, fresh purple and white grapes
Confectioners' sugar, for garnish
1. Preheat oven to 350°F
2. Generously butter and flour a springform pan, tapping out any excess flour. Set aside.
3. In the bowl of an electric mixer fitted with a whisk, beat the eggs and sugar until thick and lemon-colored, about 3 minutes. Add the butter, oil, milk, and vanilla extract, and mix until blended.
4. Sift the flour, baking powder, and salt into a large bowl. Add the lemon zest and orange zest, and toss to coat the zest with flour. Spoon the mixture into the bowl of batter and stir with a wooden spoon until thoroughly blended. Scrape down the sides of the bowl and mix once more. Set aside for 10 minutes to allow the flour to absorb the liquids.
5. Stir about 3/4 of the grapes into the batter. Spoon the batter into the prepared cake pan and smooth out the top with a spatula.
6. Place the pan in the center of the oven. Bake for 15 minutes, then sprinkle the top of the cake with remaining grapes. Bake until the top is a deep golden brown and the cake feels quite firm when pressed with a fingertip, about 40 minutes more, for a total baking time of 55 minutes. Remove to rack to cool. After 10 minutes, run a knife along the sides of the pan. Release and remove the side of the springform pan, leaving the cake on the pan base. Sprinkle with confectioners' sugar just before serving. Serve at room temperature, cut into thin wedges.
Inspired? Her 2014 classes are not yet full. :)