What would Nonna say?
Posted by Erin Mussolum on Thursday, October 16th, 2014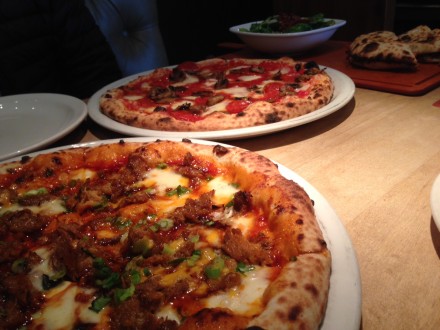 Pizza is having its moment and I couldn't be happier. It is by far my favorite meal and on my "last meal list" if I ever head to the electric chair.
But with the pizza boom I've noticed that the traditional pie is now being swapped out by the unconventional. It seems if you can dream it up, you can put it on.
At Nino's 'Luxury' Pizza in New York they boast of a six slicer topped with six varieties of caviar, chives, fresh lobster and creme fraiche. And the price tag? A mere $1000. (Insert very sarcastic eye roll from writer).
Others offer toppings like black squid ink, peanut butter and jam, or novelty items like whole burgers and French fries.  This personally makes me cringe. I have a hearty belief that pizza should be respected. Putting fast food on it…don't even get me started.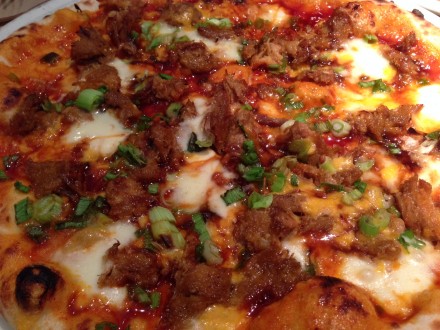 But I did recently try the Korean BBQ Pork Pizza at Famosa. The toppings consisted of roasted spicy pork butt, Korean BBQ sauce, fior-di-latte, green onion, cheddar cheese, and a spicy hoisin sauce. It was definitely unconventional! The franchise offers 17 different pizzas on their menu, most of them traditional, but from time to time they add in a few pizzas that are as far away from "Nona's" as you could go.
One pizza (created at their Commercial Drive location), went from an experiment to becoming a full- fledged menu item running across the chain of stores. As the story goes a barista was experimenting with pizza toppings at home and came across a winning combination. She shared it with the staff and it quickly became a favorite. Called the Cavoletti, the pizza consists of oven roasted Brussels sprouts, crispy prosciutto, gorgonzola, dates, walnuts, and then drizzled with honey.  It sounds odd but I do admit I found the combination of condiments rather tasty.
We are at a time where one can truly experiment with flavours, and dream up unique pizza concoctions. Some will be winners and some will be downright losers. But the friendly pizza can provide a round doughy pallet in which to play on.
But for me, I'm a harsh traditionalist. Nothing gives me more pleasure than a hot wood oven pizza being pulled out and placed in front of me with it's bubbly crust, gooey cheese, and ordained with simple traditional ingredients. For this pizza aficionado,  if it ain't broke, don't fix it".