Plantain Crazy
Posted by Erin Mussolum on Friday, May 2nd, 2014
Tags for this Article: pancakes, plantains, Whole30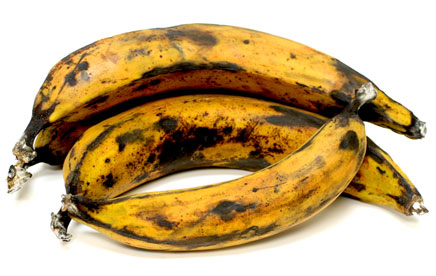 Recently I set out on a 30 day health challenge. It was called Whole30. The whole point was to only eat whole foods for 30 days and see how my body reacted.
So for 30 days spanning February to March (I sandwiched the 30 between Valentines Day and St. Patricks Day cuz I'm smart like that)  I eliminated alcohol (much harder than I thought) , grains (including rice and corn), sugars (including natural sugars like honey and agave), beans, and dairy.  Not an easy challenge when you LOVE food as much as this foodist does.
Like any cleanse,you go through the typical withdrawals. I wanted weird things at weird times.  But on day 26 I wanted bread. White glorious fluffy bread – ANYTHING AT ALL – but it had to be bread.
I took to Pinterest and typed in "Whole30 bread". I was desperate. There was post after post about creating bread using non grain ingredients but I didn't have 30 hours to dry squash, or smash up a bag of seeds and make a paste. "Ain't nobody got time for that!"
But then I saw a stack of pancakes made from plantains. They are those crazy huge bananas you see at asian grocery stores – sometimes green and sometimes they look, creepy, black and rotten.
I took the plunge and bought a couple. Then I made heaven – pure fluffy bread heaven!!!
Here's the link to the recipe for plantain pancakes I followed.
Since then I've added these plantain pancakes to my normal non-whole30 diet and I now prefer them over normal pancakes. I add cocoa power, a tablespoon of agave to the batter and some vanilla and then fry them in coconut oil. When these babies are done you don't need syrup, I just caramelize bananas and that does the trick!
I also made plantain tostados which had the BF swear immediately after his first bite – they were amazing. They have way more flavour than regular corn tostados and are super fast and fun to make.  These are now part of my rotating favorites: Plantain Tostados with Cilantro Lime Chicken with Ranchero Sauce.
I'm plantain crazy!    I suggest you pick up a couple and catch the crazy too!