Greasy Spoon Diner Supper Series – Eating, Serving & Feeding in Vancouver's DTES
Posted by Mark Busse on Sunday, May 17th, 2015
Tags for this Article: A Better Life Foundation, charity, community, diner food, DTES, Save on Meats
I haven't served meals in a restaurant since the 1980's, and I rarely eat at old school diners anymore. Recently I got the opportunity to do both recently while helping those in need in my community.
The Greasy Spoon Diner Supper Series is a fun pop up dinner series produced by A Better Life Foundation where Vancouver chefs are challenge to take over the Save On Meats kitchen and produce a gourmet version of diner fare—and 100% of all proceeds go to support and feed vulnerable people in the downtown east side.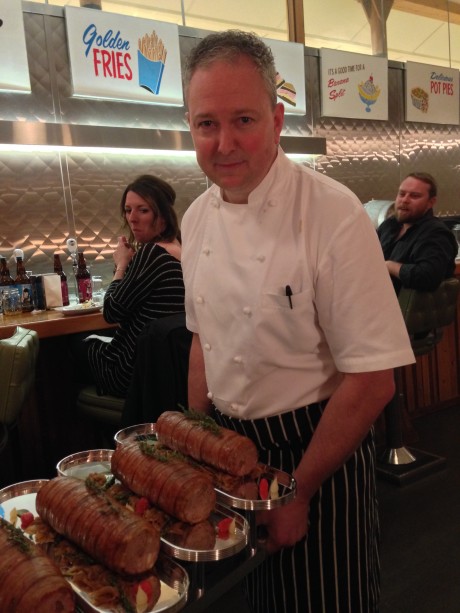 I attended the first event as a diner where one of my favourite local chefs, Pear Tree's Scott Jager, who selected Growing Chefs and the Strathcona Food Program as the evening's beneficiaries, served the best "meatloaf" I've ever tasted. The night started with a feature cocktail and each dish was paired with a drink from local breweries and wineries. Let's just say it wasn't a meal to drive home from! It was so much fun.
For the second event I volunteered to be a part of the service team and had even more fun. The night featured Earl's Restaurants Chef Collective led by Hamid Salimian (ex-Diva at the Met, who was voted Metro Vancouver's best chef in 2013 by his peers), David Wong (former chef at Fairmont Pacific Rim Hotel's Oru), Brian Skinner (former chef/owner of Acorn), and Ryan Stone (former sous chef at Pear Tree), each of whom prepared a remarkable take on diner classics. They chose to support the Rainier Women's Hotel in the DTES.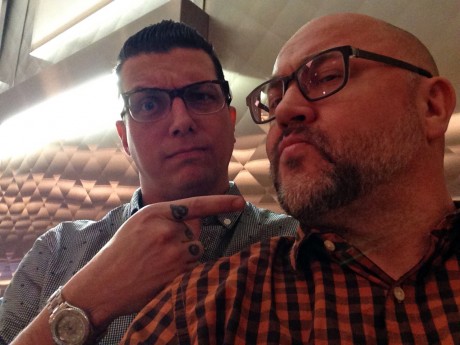 I really love this concept for so many reasons. First of all, I'm up for any outing with this calibre of gourmet gastronomy, especially for such an affordable price (tickets are only $95) and in such a fun environment. And to see some of the region's top chefs donating their time, energy and creativity to such a worthy cause is really inspirational. Whether you sit and enjoy or volunteer as part of the team, you will leave feeling connecting to our community in a meaningful way.
Here are some photos from the first couple events, but for a better idea how fun, delicious and important these dinners are, check out these videos: 

The next event is scheduled for Tuesday, May 19th and will feature  William Tse, who is executive chef at Centreplate at BC Place Stadium and Sandbar Seafood Restaurant. Previously he was executive chef at Goldfish Pacific Kitchen, and executive sous-chef at Joe Fortes. There are two seatings (5:30 & 8:30) and tickets are only $95, so get your tickets before they sell out again.

For more information or tickets, visit ABetterLifeFoundation.com or GreasySpoonDiner.com.