Meet Your 2016 DinnerPartyYVR Hobby Chefs: Todd & Anna
Posted by Annika Reinhardt on Sunday, March 6th, 2016
Tags for this Article: cooking, dinnerpartyYVR, hobby chef, home cooking, vancouver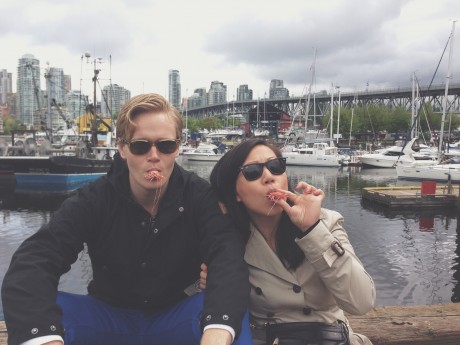 Waffles, waffles, and more waffles. Diners are in for a treat! It's a playful idea, but Todd Smith insists, "We're not just making breakfast for dinner." Here's an indulgent sneak peek of what DinnerPartyYVR guests might find on Todd and Anna's dinner table: a waffle hole with cream cheese, salmon roe, and capers; a chicken drumette on a southern scratch waffle with bourbon-caramel gravy and toasted pecans; and a sweet matcha brûlée torched on a waffle corner.
"Anna Cheung is the waffle connoisseur, sourdough feeder, and lead taste-tester, while I'm on pairing, protein, and plating," says Todd. The pair spends a lot of time thinking about flavours, and hosting "test kitchen" brunches to workshop new recipes. You can follow their sweet and beautifully illustrated journey at WafflesOnWaffles.com.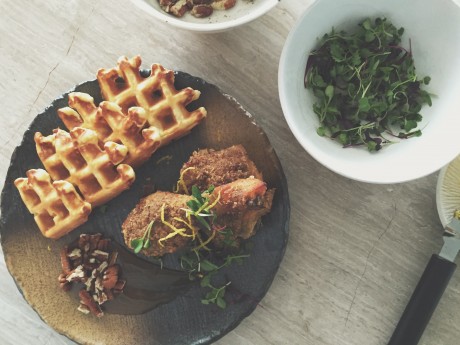 "Our waffles seem to bring out a nostalgic feeling for a lot of people. We didn't expect that reaction at first and now it's fun to see how excited people get," says Anna. When it comes to food, the duo are on a constant quest to learn, explore, and innovate. "We were both raised in families with a predetermined need to gather, share, and converse around food," Todd explains. "We both shadowed the skills of dexterous mothers who somehow prepared delicious meals from meagre ingredients. We're really interested in asking 'how?', 'why?', and 'where?', about our food because it's lead us to experiment and understand ingredients."
Todd and Anna are cooking in support of A Loving Spoonful, a local volunteer-driven society that serves more than 250 adults and children with HIV/AIDS in Greater Vancouver. "I admire the dignity, care, and support A Loving Spoonful provides to people living with HIV/AIDS in our community," Todd says.
DinnerPartyYVR, presented by Cressey, is Vancouver's biggest, boldest, and most philanthropic social dining event taking place on April 9, 2016. To date event has raised over $30,000 for local charities. Tickets to Todd and Anna's dinner, WafflesOnWaffles, are available at DinnerPartyYVR.com. You can also listen to Todd and Anna talk about the event and their meal on FoodlineRadio.
Article written by: Amanada Jun