Yeah, it's a girly drink
Posted by Stephanie Co & Todd Smith on Sunday, June 17th, 2007
Tags for this Article: drink, Raffles Hotel, recipe, Singapore-sling, Travel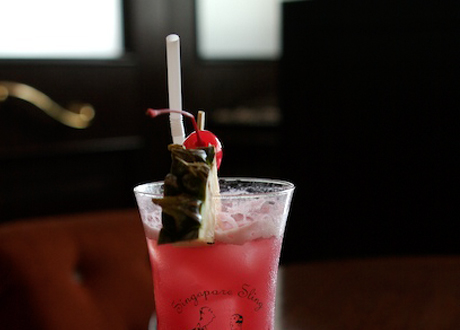 There are only three things you can do in Singapore; the first is to go shopping, the second is to wait for the rain to stop, and the third is to get hammered on girly drinks at the Raffles Hotel. Why the Raffles Hotel?
In the early 1800's a Jamaican-born Brit, Stamford Raffles, sailed down to a then Malay peninsula (Lion City) and declared it Singapore, a trade-post for the East India Trading Company. After some years of pushing out locals, Raffles was pleased with the growth of his city and with the help of engineer Phillip Jackson, a re-planning occurred (The Jackson Plan). The two later settled down in a tavern in an area just west of Singapore River named Commercial Square (Which was later re-named Raffles Place, in Raffle's honor), where they ordered Ngiam Tong Boon (a bartender) to mix something sweet, fruity, and pink (favorite drink characteristics of Brits at the time); the Singapore Sling was born.
Although I strayed a little from the truth, the moral of the story is, enjoy a famous local drink in a historic venue at the heart of the city. I give you courtesy of the Long Bar at Raffles Hotel, Singapore:
The Singapore Sling
30ml Gin
15ml Cherry Brandy
120ml Pineapple Juice
15ml Lime Juice
7.5ml Cointreau
7.5ml Dom Benedictine
10ml Grenadine
A dash of Angostura Bitters
Garnish with a slice of Pineapple and Cherry
It's sweet, too sweet. I'll never have one again, but I'll cherish it because it cost $19.80 SGD (~ $13 USD).
Oh, and read the real history of Singapore and Stamford Raffles here.