Foodies on The Web…Conference? Really?
Posted by Mark Busse on Wednesday, October 22nd, 2008
Tags for this Article: Boston University, conference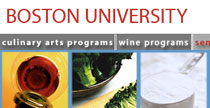 Here's an interesting find one of our foodie friend stumbled across online: a conference hosted by Boston University called Foodies on The Web: A symposium on Food and New Media exploring how technologies have changed the way people eat, cook, share recipes, decide where to have dinner, learn about nutrition, or simply think about food. Now that's a conference I could get into!