Tomato poached eggs on truffled polenta cakes
Posted by Ben Garfinkel on Tuesday, February 3rd, 2009
Tags for this Article: italian, poached eggs, polenta, recipe, tomato, truffle oil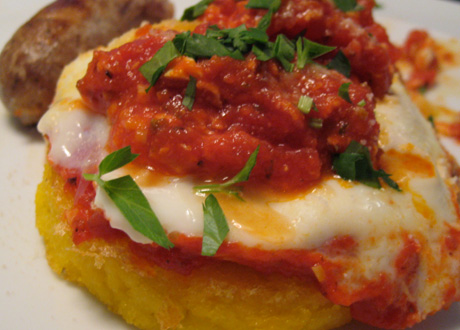 Lately we've been doing all our entertaining over brunch. I think mostly because it's with couples who also have young kids and this way we can see them, and Lila can play with them. And when I say play, I mean grab their hair and eye gouging.
For a while it was omelettes. Then French toast, first with thick-cut baguette and finally panettone . My wife says she'd only cheat on me with panettone French toast. Okaaaay. Pancakes, done that. I make some serious pan-roasted potatoes too. Oh, and you'd very likely get bacon or sausage from JNZ Meats, or failing that, sausage from Falconetti's on The Drive. Fresh coffee, juice and grapefruit and orange salad, etc, etc.
So, this past weekend for the last scheduled brunch of a string of about a month's worth, I wanted to do something a little different. During the week we had some leftover polenta in the fridge and Andrea needed a snack so I made her a little pan-fried polenta cake reconstitutd with some white truffle oil atop which I put some JNZ (as in JNZ Meats on Commercial Drive-subject for an entire separate post) bacon and then an egg I poached in some Italian plum tomato juice left over from an earlier meal of linguini vongole (another story). That little 'snack' ruined her appetite for dinner, but did get me to thinking that a variation of this would make a terrific and somewhat unexpected Sunday brunch for our guests.
Of course this time I wasn't using leftovers so I began the night before, making a batch of polenta and then before it fully cooled, forming eight cakes using a ring mold and some parchment. Then, into the fridge overnight. There are as many recipies for polenta as there are for eggs, so it's entirely up to you how you make it and what you put into the polenta. For this recipe I kept it simple:
Truffled Polenta Cakes
1 cup polenta meal
3 cups water (or chicken stock) plus more water as needed
1 tbsp salt
1 tbsp butter
Truffle oil
Olive oil
Bring water to boil in saucepan. Add salt, or if using stock, omit salt. Stirring, slowly add polenta to boiling water. Reduce heat and continue to stir, adding liquid as needed. Stir frequently until polenta releases from pan in dough-like consistency (about a half hour). Stir in butter and drizzle of truffle oil. Let cool for 5-10 minutes until polenta can be handled with bare hands, but before it hardens into a solid mass.
Place parchment paper onto large cookie sheet or flat pan. Ligtly grease ring mold with olive oil and place on parchment. Fill ring with approximately 1/8th of polenta mixture and press into ring. Pressing gently onto polenta, gently slide ring up. Repeat until you have eight polenta 'cakes'. Cover and store in the fridge overnight (note: refridgeration is optional. You can proceed right to frying the cakes if not preparing them in advance).
Pre-heat oven to 225°F.  Heat frying pan on med-high setting and fry polenta cakes in olive oil until both sides are golden brown. Place cakes on a wire cooling rack on a cookie sheet and place in oven to hold.
Tomato Poached Eggs
8 Eggs
1 can Italian San Marzano tomatoes
2 tbsp olive oil
2 cloves garlic, finely minced
1 tbsp dried oregano
1/2 tsp dried chili flakes
1/8 cup grated Parmesan cheese
2 tbsp Italian flat leaf parsley, chopped
Salt and pepper to taste
Remove eggs from fridge and bring to room temperature. Drain, but reserve tomato juice. Chop tomatoes and recombine with juice. It is helpful to use two large frying pans to poach eggs, but if you only have one, do eggs in two batches. Heat two frying pans over medium heat and place 1 tbsp of olive oil in each. Sautée one clove of garlic in each pan and just as garlic starts to brown add half of tomato and juice to each pan. Stir in oregano, chili flakes and salt and pepper to taste. Note: you can use any tomato sauce and seasonings you prefer.
Lower heat slightly and simmer for 5 to 10 minutes, then, using the round side of a spoon, make four divots in the sauce in each pan. Crack an egg into each divot and then cover pans partially. Cook for approximately 5 minutes or until eggs are cooked to the desired level, my preference is soft to medium with yolks that will run slightly when cut open.
Just before the eggs are ready, place two polenta cakes on each plate. Gently lift eggs from pan and place one onto each polenta cake. Turn heat up on pans and add a small amount of water if necessary to thin sauce. Lightly salt eggs and top with remaining tomato sauce, Parmaesan cheese and garnish with parsley. Serve with fresh hot or mild Italian sausages (I favour boiling them for 1o minutes and then baking or grilling them for another 10 minutes).
And there you have it, the perfect excuse to drink red wine with breakfast.