Biscochitos
Posted by Colin Kohler on Wednesday, February 18th, 2009
Tags for this Article: cookies, dessert, holidays, recipe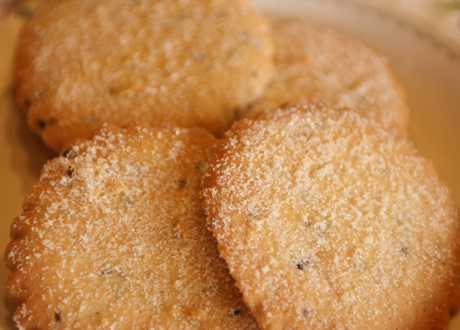 When I first tasted biscochitos my taste buds did a stadium wave, my eyes rolled back to get a better look at the pleasure center of my brain, and I was transformed into Cookie Monster for two straight weeks. I'm not messing around; these things are bananas. The light and crisp texture has a surprise party with the full, round flavor of anise seed.
The tattered recipe in my mother-in-law's cook book read "New Mexico's traditional cookie for all special occasions and in between".  We were visiting Santa Fe for the Holidays in an off-the-grid pueblo house in the middle of the desert. Not much to do out there but cook and read, and I had long finished the book I brought. I ate these things until I was blue in the face, and borderline diabetic.
I hope this rich and spicy cut-out cookie knocks you out the way it did to me.
Enjoy!
Biscochitos
Cream together
1 cup butter
1 cup shortening
1 cup sugar
2 tsp. anise seed (crushed)
until fluffy.
Add 2 well beaten eggs
Mix in
4 ½ cups flour
2 ½ tsp. baking powder
½ tsp. salt
Alternately with
¼ cup  brandy or apple cider
1 tsp. vanilla
Mix till well blended. Chill overnight.
Roll until ½ cm thick and cut with cookie cutters.
Dip each cookie in cinnamon-sugar mixture.
Place on parchment paper and bake 350° for 10 minutes or till brown edged.