Mozaic, Bali
Posted by Doc on Wednesday, April 1st, 2009
Tags for this Article: asia, Bali, french, Indonesia, Mozaic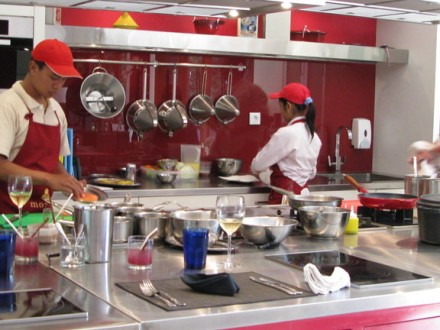 Not so long ago, I had the pleasure of taking a workshop overseas at the wonderful restaurant Mozaic in Bali, Indonesia. A rare treat. Mozaic is one of the few places you'll get to experience the pinnacle of combining indonesian ingredients with french flare. It's perhaps the best fine dining establishment on the island and its reputation is known around the world (Member of Les Grandes Tables du Monde). 
The workshop I took was one of many Mozaic has to offer. It focused on using asian ingredients in western cuisine. More specifically, ingredients indigenous to indonesia. Items ranging from galangal and palm sugar to candlenut and krupuk. Western ingredients included duck and foie gras (flown in from France as there are no local producers). Some fish, such as salmon, are imported from New Zealand. I know what your thinking – what would Al Gore say? Get over it. It's an island.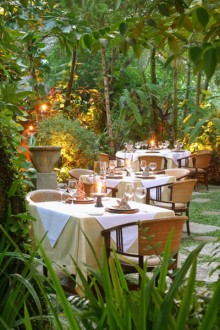 My afternoon started with a glass of bubbly with chef Chris Salans and one other lucky student over little samplings of treats made that morning. Chris then gave us a tour of the restaurant grounds as they are partially set outdoors elegantly tangled with local flora. The workshop kitchen is set in the back overlooking a rice field and is well stocked with top of the line Miele appliances (induction stove tops) and gastronomical gear such as the pacojet and sous-vide thermal circulator. Chefs from around the world come to these workshops and so it's got to be great right? He then went on to show us some locally growing herbs and fruits commonly used in their dishes. Kaffir lime leaves, Lombok chilies, and the amazing ginger flower locally known as Kecicang or torch ginger. A fresh edible flower which has a wonderfully pungent floral flavour. My taste buds were ready for action.
We would fill the afternoon completing three dishes. 1) Crispy Seared Tasmanian Salmon, Cherry Tomato, Carambola and Bangkuang Salad, Ginger Flower Relish. 2) Seared Duck Breast with Asian Cabbage and Shaved Apple Salad, Star Anise Pan Juice. 3) Kaffir Lime Tart Brulée Ginger Flower Sorbet, Strawberries and Lime Leaf. I know… no coconut with a straw? What gives? (I can dive into each one of these dishes and explain them in detail as I do have the recipes in a nicely put together binder that was part of the grab bag they gave me when I finished the workshop but… i'm afraid this entry would be far too long. Instead, stay tuned as I'll post each one shortly one after the other)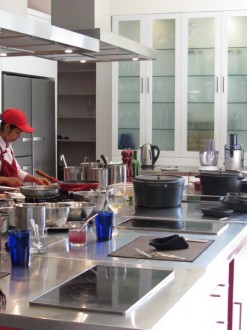 It was a full-on, hands-on workshop. We each had our own kitchen stations with tools equipment, and help… yes there was always someone at my side to give me a helping hand should I need it. We were pampered.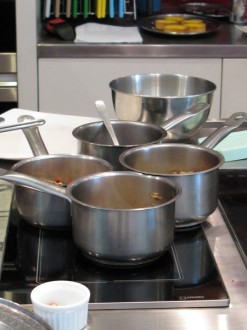 By the time we filled up the afternoon we had done so also our bellies. Plump with indonesian goodness. Educated, well fed, and happily spirited I booked my fellow travelers (wife, child, funny aunt, brother in-law and his daughter) a table three days later to share the joy. I had been to Mosaic before with my lovely gal but this time we knew to bring family. When you find a place this good, you have to spread the love. 
If ever you're down in Bali, go to Mozaic. Take a workshop. You won't regret it.