Mosaic, Bali – Salmon
Posted by Doc on Sunday, April 5th, 2009
Tags for this Article: Bali, french, indonesian, Mosiac, salmon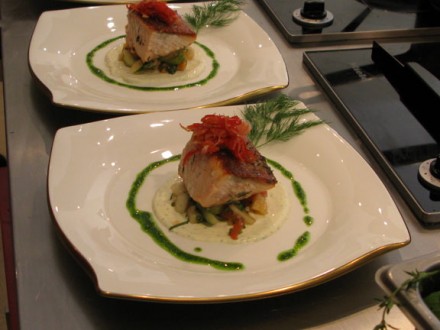 Living on the pacific west coast i've been lucky to have had salmon in a variety of ways – as I'm sure most of you have. This salmon dish however, is like no other. Sweet, savory, tangy, spicy, and full of flavour, this little fella combines french style with indonesian ingredients and brings new light to a common staple us west coasters commonly under appreciate. As promised, I share with you the first dish learned while at the amazing restaurant Mosiac, Bali (read the article under Worship about Mosiac I posted earlier).
Enjoy.
Crispy Seared Tasmanian Salmon, Cherry Tomato, Carombola and 'Bangkuang' Salad. Ginger Flower Relish (as written and prepared by Chris Salans of Mosaic).
For the Salmon:
Salmon Fillet (4 portions)
Salt & Pepper 
Sea Salt
For the Salad:
Cherry Tomato 160 gr
Carambola (or Starfruit) 30gr
Rosewater Apple 60g
Singapore Berries 10gr
Olive Oil 50ml
Red Wine Vinegar 20ml
Ginger Juice 5ml
Fresh Herb (to taste)
Shallot 25gr
Chive/Spring Onion 10gr
Salt & pepper (to taste)
For the Sambal:
Shrimp Paste 1/4 tsp
Salt 1/4 tsp
Chili Lombok Red Sliced 15gr (1pcs)
Shallot Sliced 25gr
Tomato Sliced 15gr
Ginger Flower Sliced 15gr
Lemon 1/2pcs
Lemon Leaf 1pcs
Salad Oil tsp
Salt (to taste)
Dill Crème Fraiche:
Crème Fraiche 20gr
Dill 1 sprig
Lemon 1 squeeze
Salt & Pepper (to taste)
Method:
Slice the cherry tomatoes in half. Slice the carambola into thin slices and the rosewater apple into segments. Place all of these into a bowl and season with all the ingredients listed for the salad. Allow to marinate at room temperature at least 30 minutes before use and rectify the seasoning before using.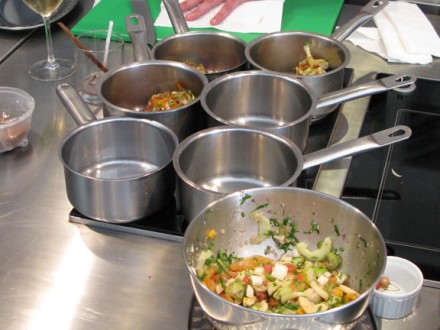 Toast the shrimp paste until it is dry. Crumble it with the salt. Add in all the other ingredients adding the tomatoes last and squeezing the lemon half into the mixture. Mix thoroughly and rectify seasoning to taste.
Mix all the ingredients for the crème fraiche together and adjust the seasoning to your liking.
When ready to serve, season the fish fillet with salt and pepper. Heat the salad oil in a pan until lightly smoking and place the fish skin side down, into the oil. Cook slowly until the fish is three quarters cooked then add some room temperature butter, lemon juice and thyme. Be sure to cook your salmon medium rare, this will take some practice. Low temperature is essential for this.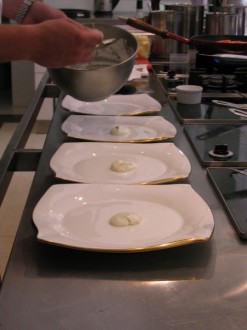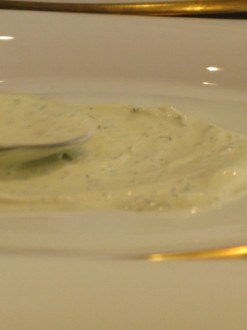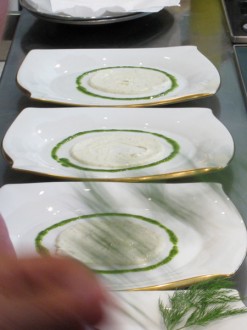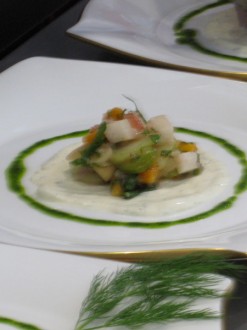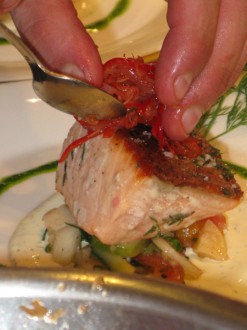 Meanwhile place the dill crème fraiche and cherry tomato salad in the center of a room temperature plate. Place the pan seared fish on top. Top with sea salt. Basil oil may be used for decoration on the plate. Finally, add the ginger flower relish and serve immediately.
Now obviously some of these ingredients will be hard if not impossible to get on the west coast. Not to worry as there are substitutes. Instead of Rosewater Apple, you can purchase a flight to Bali via Cathay Pacific. For the Carambola, simply take a bus down the main road of Ubud and on the west side of the road you'll find this great little place called Mosaic…