Fold, walk, open, grill
Posted by Ben Garfinkel on Friday, June 12th, 2009
Tags for this Article: barbecue, BBQ, Cobb, notebook grill, Weber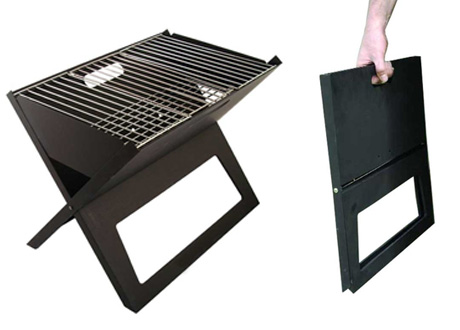 There's something about being able to grill anywhere that's imminently appealing to me. Add in some sweet design and you may have a winner. To me, portable grills are also more than just about being mobile and great alternatives for people with limited space, or have issues storing a grill. Why deny yourself the delicious and savoury delights that come from charring up meat on a warm summer evening? Why I ask? And better yet, charcoal imparts a completely different flavour dimension than a gas grill. Trust me.
Granted, there's a bit more clean up with coals, but you can't have everything. Well, you can sort of since Weber and Napoleon for example both make excellent portable gas grills that I would not be embarrassed to own had I not strong-armed my wife into allowing me to plant a Weber Genesis 320 on her/our minimalist small patio!
Well designed products are for me always more pleasurable to use. This notebook grill available at local design retailer Vancouver Special is very cool. It sure would not take up much space and be easy to carry that's for sure. I like it. No idea if it's any good, or will last. Plus, you still have to haul all your food and coals to wherever you are going. My personal preference is actually for the Cobb.
In addition to being extremely portable, you can also store the coals in it (it only takes 5-10 briquettes for up to three hours of cooking time), and if you're inventive you can even pre-load your food into it, pop it into the carry case and take it all with you. Only the dome gets hot when you are cooking so it can sit atop even a plastic table and is easy to move around should you need to make a little extra room on the picnic table to butcher your meat.
I know fellow Foodists Jer and Kevin both have Cobbs now. Anyone else?