The Dirty Apron Cooking School
Posted by Sylvia Zygalo on Monday, August 24th, 2009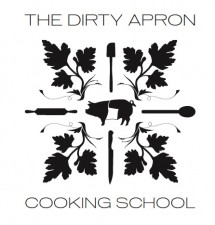 Due to Vancouver's anti-climatic nature, I have nurtured myself to forbid the formation of expectations with newly opened establishments. I do so in hopes of minimizing the depth of my disappointment, but when a local venture unexpectedly blows me away, I can't help but to be left highly humbled & proud.
I was even wearing my glasses when I walked to Crosstown to take a tour through the open house for The Dirty Apron, a culinary habitat for amateur gastronomers & curious professionals seeking to extend their skills in a space suitable for those with quality in mind. The school is a joint venture between Nico & Karri Schuermans of Chambar & a food stylist & former Sous-Chef of Chambar, David Robertson.
Upon entering, an energy of passionate chaos looped around me while I observed the harmony of the space. Once I collected both myself & my Chardonnay, I swayed from one room to another in admiration. The interior was designed by Kerri, who is the aesthetic brain behind both Chambar & Café Medina. The kitchen exhibits simplicity & is stocked with high-grade equipment & tools by All Clad cookware, Wusthof knives, Wolf ranges & Sub Zero fridges. Brick, beam & custom walnut cabinetry are all a part of the general retail store, which was designed with a 1920's aristocratic feel & accessorized with culinary antiques. However, it was the dining room that truly stole me away. Victorian-style crystal chandeliers, vintage chairs & unfinished wooden tables charmed the narrow length of the room with intimacy.
There are a total of eleven classes: Knife skills, West Coast, French, Seafood, Italian, Meat, Grilling, Desserts, Chocolate, a Frugal Feast & a recreation of some of Chambar's most popular dishes. These are all 4-hour, hands on classes, while the 2-hour demonstration classes only include French & West Coast. The majority of these are taught by Robertson & the website promises a "peppering" of local celebrity chefs. Hands-on classes are thereafter paired with wine whilst dining together after class completion.
To start, I'll be taking the Knife Skills Class & the Contemporary West Coast Class. A further review to follow.