BBQ Salmon À La Sooke
Posted by Colin Coutts on Tuesday, September 15th, 2009
Tags for this Article: barbecue, delicious, recipe, salmon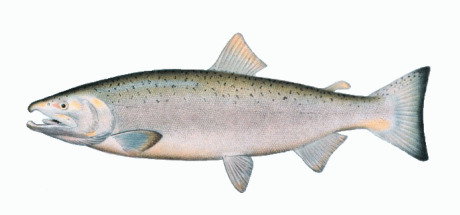 My buddy Handsome Rob (not my name for him – not that there's anything wrong with that) took me salmon fishing out of Sooke on Sunday without much expectation. The big springs had moved through already, and he didn't know if there would be much out there. But the day was no bust.
We got into some beautiful coho around the 10 pound mark, and one of them was a hatchery fish (you can't keep the wild ones) so it went home with me for dinner. Thanks, Rob!
What to do? Eat it! I filleted the fish after I got home, put half in the freezer and invited K's parents over for salmon the next day. I was craving risotto as well – once the weather turns a bit cooler, my risotto gene gets switched on again after lying dormant for the summer. Just went with what was in the fridge, so it turned out to be a bacon, sweet corn and tomato version. The roasted vegetables (cauliflower and green beans) that went with the salmon were from the Island Chef's Collaborative Farmer's Market in Bastion Square that David Mincey and Paige Robinson from Camille's Restaurant have been involved with for a number of years now. But you could serve the salmon with any accompaniment you like. Doing it on the barbeque is not a necessity, but it does add that extra smoky je ne sais quoi. The recipe follows.
The Salmon:
One side of fresh salmon, skin on, filleted with the pin bones out. Ours was about 10 pounds, guts in.
The Marinade:
3 tbsp grainy dijon mustard
3-4 tbsp extra virgin olive oil
2 large shallots, minced
splash of champagne vinegar
3 springs fresh French thyme – keep the leaves, toss the twigs
2 tbsp wildflower honey
salt and pepper to taste
Mix together the ingredients for the marinade, then spoon about a third of it onto a fish plate or some other vessel long enough to hold the salmon. Put the salmon on the plate skin side down and smear the marinade around a bit, then spoon the remaining two thirds on top, covering the flesh evenly. Cover with plastic wrap and return to the fridge for three to four hours.
Heat up the barbeque, and while it's getting up to temp, make a foil tray for the fish by taking two sheets of foil well long enough and turning up the sides a few times. Put the fish in the trayand season with a little extra salt. Once you're warmed up, turn the temp to low and place the fish in the middle of the grill. It takes about 15 minutes to cook through perfectly, but check regularly so it doesn't get overcooked. Enjoy!