Adobo Chicken
Posted by Andrea Busse on Monday, October 12th, 2009
Tags for this Article: adobo, chicken, comfort food, recipe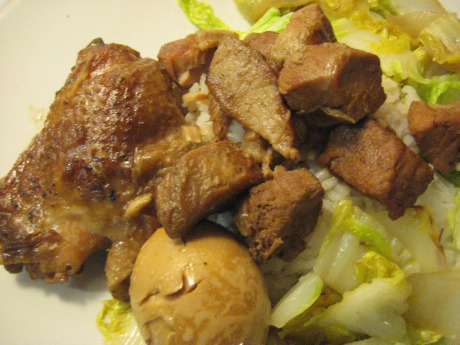 As the leaves start to fall and there is a chill in the air, my mind turns to warm comfort foods to take me through the winter. I feel a warm hug just thinking about my mom's adobo chicken. I've made it several times for Mark, and he loves it. We have also tried it in different restaurants across town (RIP Rekados!), and using my mom's recipe as a starting point, we've tweaked it just a bit to produce warm bubbling chickeny goodness!
Ingredients:
1/2 onion – chopped
6 cloves garlic – halved
8 chicken pieces
1lb pork in 1″ cubes
4 hard boiled eggs, peeled
2 bay leaves
1/2 c soy sauce
1/2 c vinegar
1/2 c chicken stock or water
peppercorns
salt
1 can coconut milk
Method: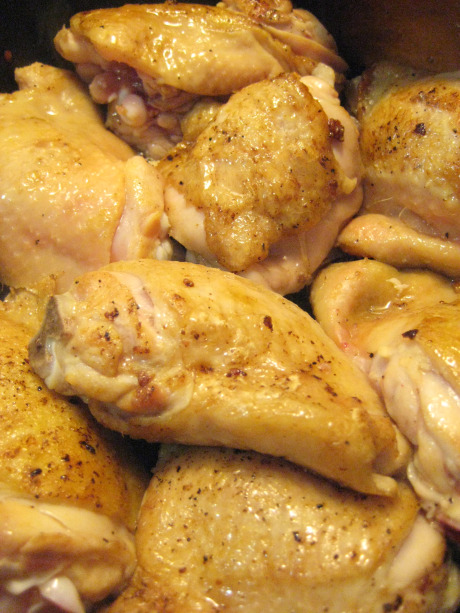 Brown the onions and garlic in a bit of oil. Set aside. Brown the pork and the chicken in a large, deep pan. You may have to do this in stages unless you have a really big pan. Salt to flavour. Remember, when browning meat, especially chicken with the skin on, don't rush it! The meat will stick to the pan until it is good and ready to let go. If you try to scrape it off the bottom of the pan, you will make a mess of the meat. Patience!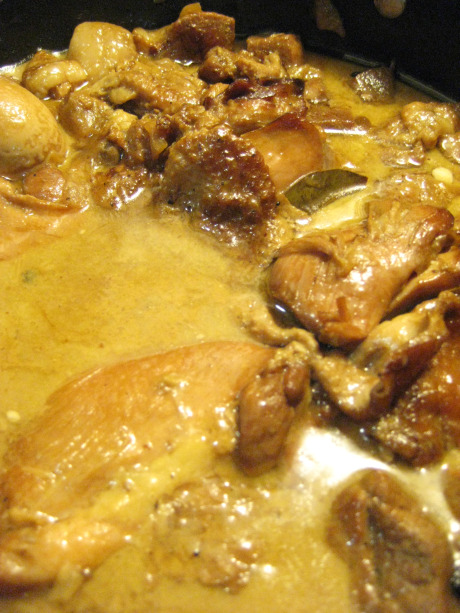 Add the onions back to the pan with the meat. Add the soy sauce, vinegar, bay leaves, eggs, stock, and peppercorns to the pan and bring to a boil. Simmer for as long as you can! I like to leave it for at least 2 hours so the meat is fall off the bone tender, and the eggs are a rich brown. With about half an hour left in cooking, at the coconut milk and let simmer. This will thicken it a bit and give it an extra layer of flavour.
Serve over rice.