Salmon and ginger fishcakes with sweet-and-sour salad
Posted by Matt SamyciaWood on Tuesday, January 5th, 2010
Tags for this Article: salmon fishcakes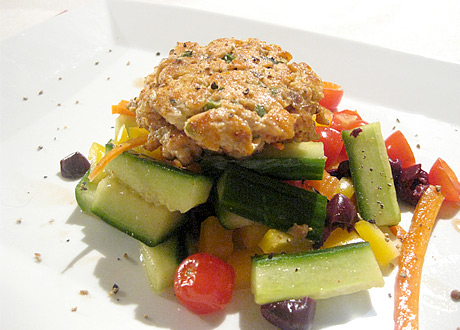 This was the first time I have ever made fishcakes, so I thought I would download a recipe online. With some small alterations it turned out rather well.
Here is the recipe:
Serves 4
Ready in 30 minutes

Ingredients
500g skinned salmon fillet
4cm piece ginger, very finely chopped
4 spring onions, finely chopped
1 tsp sunflower oil
For the salad
1 medium-hot red chilli, deseeded and finely chopped
2 tsp caster sugar
1 tsp Thai fish sauce
1 tbsp lime juice
1 tbsp rice vinegar
1/2 cucumber
1 small yellow pepper, deseeded and cut into long, thin strips
1 small carrot, cut into thin strips
12 cherry tomatoes, halved
Bunch of fresh coriander, leaves picked
I also added Kalamata olives
Method: How to make salmon and ginger fishcakes
1. Put the chilli, sugar, fish sauce, lime juice and vinegar into a screw-top jar and shake well. Set aside. Halve the cucumber, then slice each piece into long, thin strips. Toss the cucumber, pepper, carrot and tomatoes together in a bowl.
2. Chop the salmon until you have a coarse, mince-like mixture. Put into another bowl with the ginger and onions. Season. Mix together and divide into 8. Using slightly wet hands, shape into 8 fishcakes.
3. Heat the oil in a large, non-stick frying pan over a medium heat. Cook the fishcakes for 11/2 minutes each side, until lightly golden and cooked.
4. Toss the dressing and coriander leaves through the salad. Divide between 4 plates and top each with 2 fishcakes.
Nutritional Information
Per serving:
281kcals
14.9g fat (2.6g saturated)
26.8g protein
9.9g carbs
8.8g sugar
0.4g salt
The recipe is from the Channel 4 website.