Bringing New Orleans Home: Crawfish Etouffee
Posted by Laura Siciliano-Rosen on Thursday, March 4th, 2010
Tags for this Article: cooking, crawfish etouffee, Creole, dinner party, New Orleans, Southern food, Travel
New Orleans is a special place for more reasons to count, but its gastronomy certainly ranks pretty high up there (followed closely, perhaps, by its open-container outside drinking laws). It is, after all, where the spices and traditions of a few overlapping cultures—African, French, Acadian (or Cajun, meaning French-descended by way of Nova Scotia), Spanish, Creole, even Italian—meet the delectable fruits of the Gulf of Mexico and Louisiana's bayous and countryside, with hearty Southern flair.
At the risk of regretting my flight home, I'll recall a few standouts from the depths of my butter-clouded mind: fresh oysters prepared a zillion different ways; rich turtle soup and whiskey-sauced bread pudding soufflé; po'boy sandwiches stuffed with everything from roast beef "debris" to BBQ shrimp (shown below; it doesn't involve a BBQ, mind you, but lots of butter and pepper); late-night beignets piled with powdered sugar; spicy crawfish/shrimp "boils"; French-style fish meunière; paella-like jambalaya, with rabbit and andouille; Cajun spice rum and anisette-spiked Sazeracs. And that's just the tip of the iceberg, folks.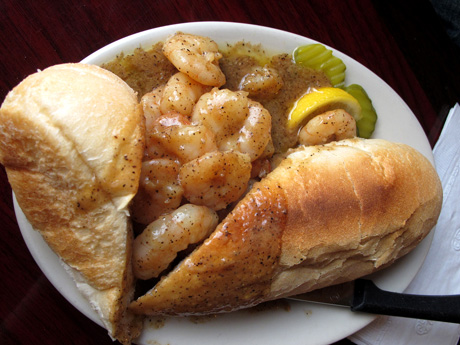 Indeed, a few gluttonous days in New Orleans are hard to beat. The best you can do, then, is re-create some of its deliciousness upon your return. Not surprisingly, the region's food lends itself quite well to home cooking, if you can find a few key ingredients. For my own wish-I-was-still-there NOLA dinner party, I chose a hearty Creole dish my husband and I happily devoured on our last day in town: crawfish etouffee.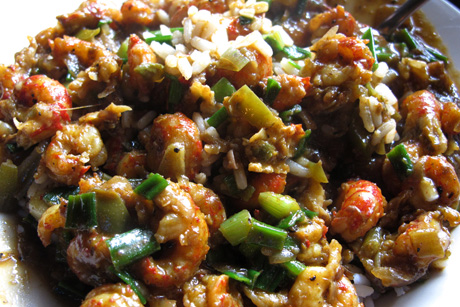 To translate from the French, crawfish tail meat is "smothered" in the etouffee, to make a rich, spicy brown stew of vegetables, butter, and Cajun spices that's served over rice. It struck me as the perfect main course—more unusual than other New Orleans classics, like gumbo or jambalaya, but still relatively easy to make.
I was ecstatic to find crawfish meat—frozen and from Spain, which isn't ideal but will do the trick—as well as two popular Louisiana sausages, andouille (smoked, pork) and boudin blanc (pork with liver and often heart, plus rice), at New York City's Chelsea Market. Score! (In case you're wondering, I already had the Mardi Gras beads and voodoo doll, which we fashioned into a centerpiece of sorts.)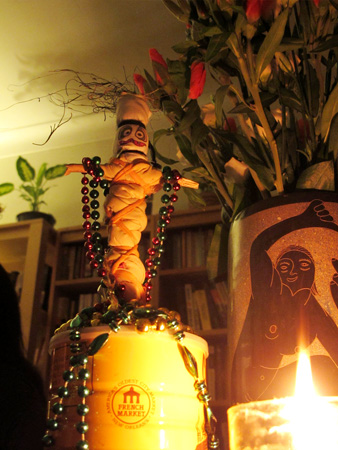 I used an etouffee recipe from famed New Orleans chef, Emeril Lagasse. Specifically, it was the recipe Emeril demonstrated on The Martha Stewart Show—the visual (video) aid actually came in handy. I've edited the recipe below just slightly to better reflect what he does in the video.
Because we had a larger group—and everyone likes to eat a lot—I doubled this recipe with no problems (two pounds of crawfish still sufficed, though). I was alarmed at first that our butter-and-flour roux was not as dark as Emeril's, but the dish turned out just fine. Delicious, in fact.
The grilled andouille and steamed boudin sausages (steam until cooked, 10-15 minutes, then remove the thin casing and squeeze some lemon on the meat), both served with spicy Creole mustard and French bread, made wonderful Louisiana-style appetizers…although next time I will probably throw some of that andouille into the etouffee. Yum!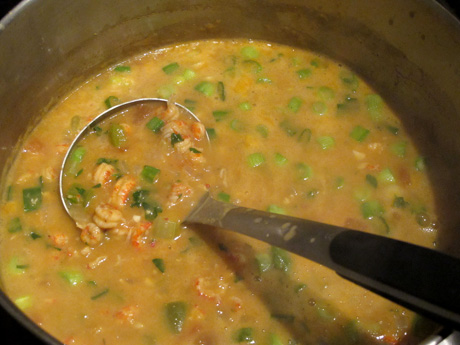 Serves 8
6 Tbsp. unsalted butter
4 Tbsp. all-purpose flour
2 cups chopped onions
1/2 cup chopped celery
1/2 cup chopped green bell pepper
2 bay leaves
2 sprigs fresh thyme
6 cloves garlic, minced
2 1/2 cups shrimp stock
1 cup peeled, seeded and diced tomatoes
1 tsp coarse salt
1/4 tsp cayenne pepper
2 tsp Worcestershire sauce
Hot sauce, like Tabasco, to taste
2 lbs crawfish tails, with the fat (or substitute shrimp, if you must)
2 tsp Emeril's Original Essence (or make your own)
Juice of 1/2 lemon
1 cup chopped scallions
1/4 cup chopped flat-leaf parsley
Hot cooked white rice, for serving
Directions
1. In a large, heavy saucepan, melt 4 Tbsp of butter over medium heat. Make a roux by adding the flour slowly and whisking to combine. Continue to cook, stirring constantly, until roux is the color of peanut butter. (Do this for a good couple of minutes, being careful not to burn the butter.)
2. Add onions, celery, bell pepper, bay leaves, and thyme. Cook, stirring occasionally, until vegetables have softened, 6-8 minutes. (They will appear dry—that's okay.) Stir in garlic; let cook for a minute. Add stock, tomatoes, salt, cayenne, Worcestershire sauce, and Tabasco; bring to a boil. Skim surface, reduce heat, and simmer, stirring occasionally, for 30 minutes.
3. In a medium bowl, toss together crawfish tails (and any crawfish fat) and the Essence, and add to the simmering sauce along with the lemon juice, scallions, and parsley. Cook, stirring occasionally, for 15 minutes. Add remaining 2 Tbsp butter; stir to combine. Serve over rice.