Wine Is The Glue That Binds: Banée 2010
Posted by Mark Busse on Sunday, April 18th, 2010
Tags for this Article: Banée, Okanagan, Passa Tempo, Sid Cross, South Okanagan, South Okanagan Wine Association, Spirit Ridge, Walnut Beach Resort, Watermark Beach Resort, Wine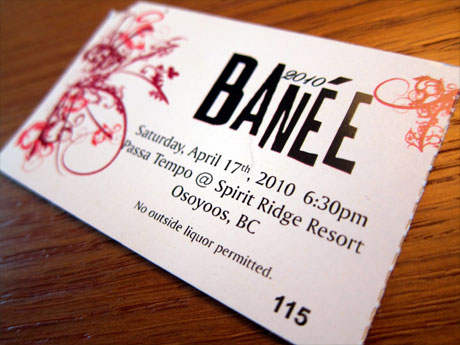 Hosted by the South Okanagan Wine Association each year, Banée was modeled after Burgundy's famed Banée de Meursault, a wine industry celebration that marks the end of pruning and the beginning of a new season.
Originally a small gathering of South Okanagan winery owners and winemakers enjoying a wine-focused, no-frills forum to taste local and international wines, exchange ideas and share meals, the Banée has grown and word has spread but the concept remains the same.
As a member of the invited food media, the weekend started on Friday with a private dinner and tasting at Passa Tempo Restaurant at Spirit Ridge, followed by a Culinaria celebration at the host hotel Watermark Beach Resort with tastings, exhibitors, an Iron Chef competition and even an auction.
Saturday started with an interesting breakfast discussion about how social media could be used to benefit and grow the South Okanagan wine industry followed by a whirlwind media tour of some of the South Okanagan's best vineyards. It was like having a backstage pass, giving us a rare glimpse behind the scenes at the wineries and allowing us to meet and get to know the personalities behind the South Okanagan's success—many of whom are simply hard-working farmers.
After a terrific lunch at Walnut Beach Resort (ohhhh, the pepper bacon sandwich…) and wine discussion where we literally got to give feedback directly to the winemakers themselves, there was a dizzying "speed tasting" event. (Note to self: spit your wine out next time, no matter how good it tastes).
The Banée wrapped up with a gala dinner at Spirit Ridge featuring exquisite food and wine from all over the South Okanagan and was filled with joviality and a sense of community.
Thanks to my friend Sid Cross and the South Okanagan Wine Association for inviting me to participate in this rare event. Banée 2010 has left me with some great memories I will cherish forever. And more importantly, I know have a much better understanding of what makes the South Okanagan area so unique and its wine so good. The secret? The people. Well, that and their passion for quality wine and hard work they're willing to dedicate to that pursuit.
Click here to view photos from Banée 2010.
[NOTE: This is a preliminary report and I will update, revise and add more details and images of interest in the next day or so. I promise the title of this post will make more sense then. Thanks for your interest.]