Spatchcock That Bird
Posted by Pailin Chongchitnant on Tuesday, May 11th, 2010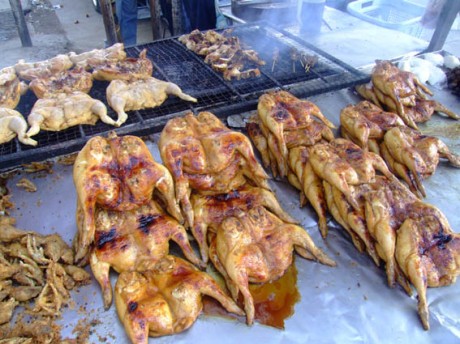 Summer isn't too far out, you know you're going to host barbeques and be invited to barbeques. You've been to hundreds of barbeques in your life time, and everytime you show up with a different grilled item at the party because, after all, you can't be a foodist AND bring the same dish to a party twice!   Pork chops, fish en papillotte, bacon wrapped chicken tenders, seafood skewers, grilled portobellos, steaks smothered in your dad's signature rub, you've done it all….but have you tried grilling  a whole chicken?
Visualize grilling a whole chicken….how do you grill a large, circular object?
Spatchcock is the answer. It is the technique where the whole chicken is flattened so it can be cooked on the grill, while keeping all the parts intact. This technique not only allows you to grill a whole bird, but it allows for faster cooking time and more surface area for marinade exposure.
I never knew the term "spatchcock" until recently, although I grew up with chicken prepared that way all my life. In Thailand, one of the most popular street foods is grilled chicken–whole chicken. Flattened and sometimes clamped between two bamboo sticks, they are  grilled right there on the street so you can detect their location from all the smoke coming up.
I recently made a Hot Thai Kitchen episode which shows in detail how to spatchcock a chicken and then grill it with a Thai style marinade, but here it is in as few words as I can:
1) Remove the spine by cutting along either side of the spine with kitchen shears.
2) Make a slit in the cartilage that covers the keel bone, push the chicken open to expose the keel bone.
3) Pull the keel bone out, running your finger around the keel bone to separate it from the attached meat or membrane.
Happy spatchcockin'!