Demystifying Chinese New Year treats + laughing sesame ball cookie recipe
Posted by Melody Fury on Monday, January 31st, 2011
Tags for this Article: chinese, Chinese New Year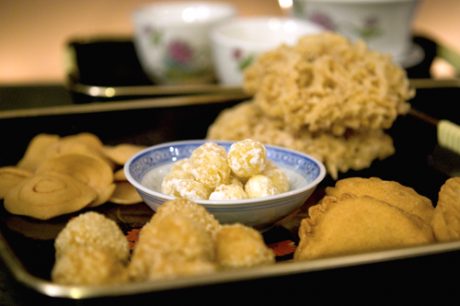 Chinese (or Lunar) New Year is the most important festival in China and it is also celebrated throughout many Asian countries. It's a time for family reunion, which also means indulging in a lot of scrumptious food.
You may have seen these goodies at Asian markets around mid-January. If you've never tried them, be sure to do so in the year of the rabbit! To make it easier, I've even demystified some common Cantonese ones for you.
For the braver souls, I've included a recipe for the quintessential "laughing sesame ball cookies" below. Happy New Year, everyone!!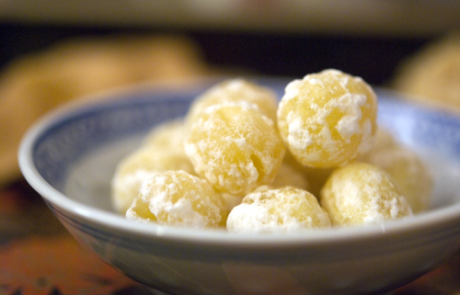 Candied lotus seeds – the Chinese pronunciation "lian zhi" is homonymous to the phrase "connected with children", symbolizing having a long line of off-springs.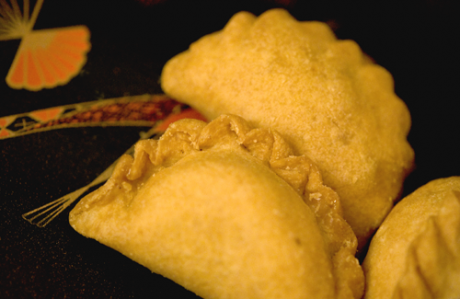 Little horns "gok-zhai" – deep-fried, crunchy pleated pastry filled with sweetened ground peanuts and toasted sesame seeds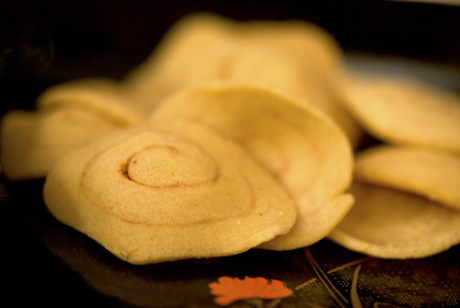 Cow ear cookies "nau-yee-so" – hard, crunchy cookies with a savory swirl of fermented red bean paste. These are ridiculously addictive.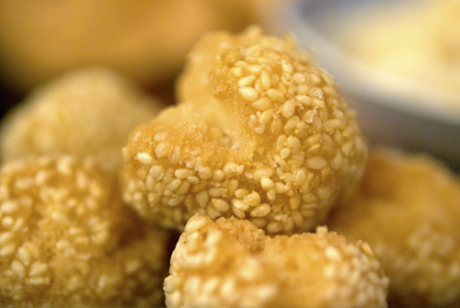 Laughing sesame ball cookies "siu-hao-jo" – deep-fried cookie balls rolled in sesame seeds. The cracked cookie looks like a laughing head (or Pacman), symbolizing laughter in the new year.
Laughing sesame ball cookies recipe
Ingredients
Flour – 500 g
Granulated Sugar – 180 g
Vegetable shortening or lard – 50 g
1 egg
1 tsp baking soda
1 tbs baking powder
1 pinch of salt
Cold Water
White sesame seeds, untoasted
Oil for frying
Directions
Cream shortening and the sugar with a whisk. Add the egg and whisk until smooth.
Sift the dry ingredients together onto a board. Create a well by making a hole in the center. Pour in the egg mixture and add the water slowly. Incorporate the dry and wet ingredients slowly until the dough forms. Add more water as necessary.
Wrap the dough up and allow it to rest at room temperature for 30 minutes.
Cut the dough into sections and roll into long tubes. Cut each tube into pieces and roll into balls around the size of a large marble. Immediately roll the dough into the sesame seeds to coat completely. Meanwhile, bring oil (at least 5 inches deep) up to 350°F in a pot.
Deep fry the cookie balls in batches, making sure not to crowd them. Roll them around in the oil to ensure even frying. Right before they reach golden brown, remove them and drain on a rack or a paper-lined baking sheet. They will continue to colour as they cool.
Serve with tea and other Chinese New Year goodies when thoroughly cooled (so that they crisp up).
Yields: 75-100 cookies