Weekly Wine Picks
Posted by Mark Shipway on Monday, February 28th, 2011
Tags for this Article: picks, Spanish, Wine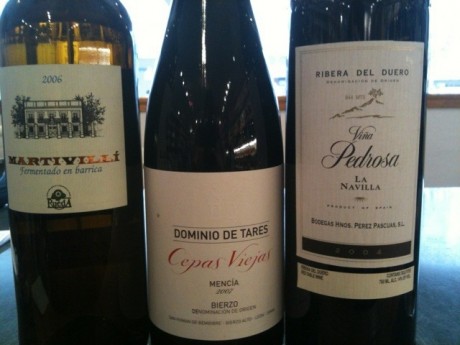 Weekly Wine Picks
In eager anticipation of the up-coming VPIWF, here's a round up of some favourite Spanish wines recently tasted and all representing the unbeatable value for money that this country can offer:
Wow this Cava really is the best value pink bubbles out there! Clean, fresh, fruity & balanced, it really over-delivers for the price. From a blend of mostly Trepat augmented by a little Garnacha & Monastrell. Delish! (BCLS, Specialty listing).
$15.99
Bodegas Martín Códax 'Bugans Albariño' 2008
This old fave benefits greatly from moving to screw cap from its former plastic cork closure. Vibrant, aromatic, floral & stone fruit flavours, round texture, crisp acidity and characteristic light bitter tang on finish. A must with mollusks (BCLS, Specialty listing).
$23.99
Bodegas Cachazo Martivilli Rueda Verdejo 2006
A sophisticated wine geek white from Rueda. 100% barrel fermented Verdejo showing complex melon, citrus, spice & toast flavours, harmonizing from some bottle age. With luxury fish pie, escabeche or similar (Marquis Wine Cellars).
$29.90
Castillo de Monséran Old Vine Garnacha 2006
Amazing value wines are emanating from this part of eastern Spain (Carineña). High altitude vineyard sites ensure that this flavour-packed, fleshy, spicy red maintains freshness with only 13% alcohol. With spicy lamb sausages (BCLS, Specialty listing).
$13.99
Solar Viejo Rioja Crianza 2007
Tasted alongside similar wines from this region, this is the Rioja that hit home. Just the right balance of old style vinosity and new style fruit, all supported by restrained wood. Really classy stuff for the price. With pork tenderloin. (Speculative listing).
$18.99
Torres Gran Coronas Cabernet Sauvignon Reserva 2006
Beautifully refined Cabernet Sauvignon (softened with about 15% Tempranillo) with a complexity and finesse unheard of anywhere else from this grape for under $20. Accompanies classics like braised leg of lamb, roast beef & mimolette (BCLS, Specialty listing).
$19.49
Bodegas Ateca 'Atteca' 2009
From another high performing but distinctly un-famous Spanish region, Calatayud, comes this big, rich red from old  Garancha vines. Baked red fruits, dried herbs, white pepper and savoury, earthy spice encased in fine tannins and surprisingly fresh acid. North Indian lamb curries or cassoulet would work well (Speculative listing).
$26.99
Dominio de Tares 'Cepas Viejas' Bierzo 2007
Bierzo is a recently 'discovered' region in NW Spain that has rapidly become a hip place to drink wines from for sommeliers and wine geeks alike. Light, fresh & elegant with violets, raspberries, minerals & subtle wood. Drink with duck confit or Cornish game hen (Marquis Wine Cellars).
$29.90
Viña Pedrosa 'La Navilla' Ribera del Duero 2004
This powerful, muscular wine from indigenous Tinto Fino grapes maintains a classically firm structure, beautiful palate evolution and serious length. For lovers of big reds and rare filet mignon off the grill. Outstanding stuff! (Marquis Wine Cellars).
$54.90
Lustau East India Solera Reserva
No Spanish list can really be complete with some kind of sherry and this is perhaps my favourite from the high quality Lustau Solera Reserva range. Its actually sweet but perfectly balanced, complex & nutty. Amazing with walnut torte. (BCLS, Specialty listing).
$20.00 (375ml)