Give us this day our daily bread.
Posted by Erin Mussolum on Saturday, April 16th, 2011
Tags for this Article: God, prayer, thankfulness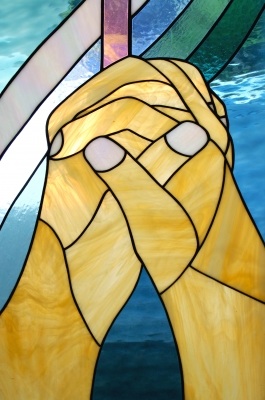 I grew up in a family that had a very strong faith.  Every meal we prayed thanking God for what lay before us. For me it was "just what we did", but a disconnect came later in my adult life where I felt an inner rebellion to remove myself from the "routine" of religion. For my parents, praying before a meal is anything but routine, but I battled with the "why" we had to do this each and every meal.
Recently I had the opportunity to work on the award-wining lifestyle television series "Anna & Kristina's Grocery Bags".  It airs on W-Network in Canada and on the new OWN (Oprah Winfrey Network) in the United States. The series is essentially a cookbook review show and each week the hosts make recipes from a cookbook and ultimately see if the recipes live up to their claims.
My role as Story Producer was to find and secure experts and locations that would highlight some of the ingredients in the recipes featured in each episode. I fell into intense research and study into all things food. Kitchen gadgets, fat, pork, lobster, measuring tools, tequila, all things cream and dairy, the etiquette of a Japanese Izakaya – you name it, I learned about it.
The show is now wrapped and I've returned to my love of media and communications, but I take away from the experience more than a head full of fun food facts.  During the process of learning about the food I eat, I had an epiphany. I finally truly connected to the amount of effort it takes to get food to our table.  It's not just a little effort, but a Mount Everest of effort.
Upon reflection I have gained an undeniable amount of respect for the entire process of creating a meal, and I'm finding myself once again thanking God for the farmers, fishermen, butchers, dairies, processors, delivery people, and of course the animals that make their way to my plate.
Now saying "grace" before a meal is no longer a religious routine to me. It's about simply stopping to acknowledge and thank those, including the animals, who have sacrificed themselves so that I could truly enjoy a beautiful meal.   That to me is worth giving thanks…each an every meal.