Buzzing in the garden
Posted by Michelle Moss on Thursday, July 14th, 2011
Tags for this Article: cacao, energy, gardening, Peru, snacks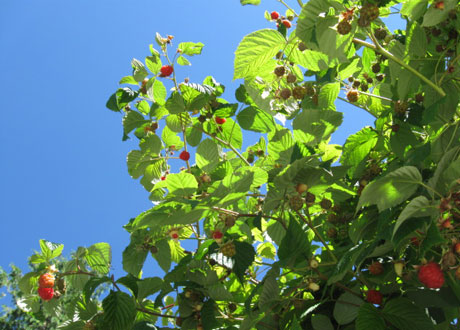 It's been a long cold spring, but the garden is finally catching up. Now I'm scrambling…picking 10 pounds of strawberries every other day… and watching the raspberries and blueberries begin to ripen.
With so little time to stop for lunch, and in need of major amounts of energy, I came up with what I call "buzz balls". I came home from a recent trip to Peru with a dozen half pound bars of pure cacao paste, some packages of maca, (which was said to be eaten by Inca imperial warriors before battles), and a package of powdered coca leaves. (used traditionally as a stimulant to overcome fatigue, hunger, and altitude sickness.) Peruvian ingredients in hand, I began rummaging in my kitchen and came up with this recipe that keeps me going so I can get on with the demands of the season.
Buzz Balls Recipe
About 4 oz. Cacao paste, melted in a double boiler
2-3 pitted dates, pureed
1/4 cup almond butter, sesame tahini or peanut butter
1/4 cup chopped almonds
1/4 cup hemp hearts
1/4 cup shredded coconut
1 heaping tsp. Maca
1 heaping tsp. Coca powder
Honey to taste
If mixture is dry, add more tahini, almond or peanut butter
Consistency should be like bread dough, just stiff enough to hold the shape of a ball when rolled. Roll balls lightly in cocoa powder and refrigerate for two hours.
Coca powder can be procured in any grocery store in Peru for pennies, not so much here.
In the Andes commercially manufactured coca teas, granola bars, cookies, hard candies, ice cream etc. are available in most stores and supermarkets, including upscale suburban supermarkets.
Beginning in the early 21st century, there has been a movement in Bolivia, Peru, and Venezuela to promote and expand legal markets for the crop. The presidents of these three countries have personally identified with this movement. In particular, Evo Morales of Bolivia (elected in December 2005) was a coca growers union leader. Morales asserts that "la coca no es cocaína"—the coca leaf is not cocaine. During his speech to the General Assembly of the United Nations on September 19, 2006, he held a coca leaf in his hand to demonstrate its innocuity.
However, I don't think it's going to be seen on our grocery shelves anytime soon. So I will enjoy it's energizing qualities while I can, until I run out, and have to use a substitute stimulant such as coffee, turkish grind, in these delectable little confections.
Do you have any recipes for energy snacks?