The apple of February's eye
Posted by Erin Mussolum on Wednesday, February 8th, 2012
Tags for this Article: apples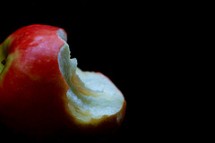 Yesterday when I typed the word "apple" into Google I was a little shocked to see that the first few references for the word were not of the fruit kind but of the computer kind (congrats Steve Jobs).  The electronic age has certainly pushed the honest "apple" to the backseat, but tonight in the company of 30+ people I was reminded about the power of this humble little fruit.
February is National Apple Month, and to celebrate BC Tree Fruits paired up with V by Earls in Yaletown, and popular Vancouver foodie Mijune Pak a.k.a "Follow Me Foodie", to bring a little attention back to the red and green orb. Holding a VIP event for local food media we heard information about the apple industry by local growers, pitches about the fruit by marketing folks, nutritional information (making apples a superfood), and noshed on a series of gourmet eats and drinks featuring apple varietals.
Earls Head Chef Martin Keyer created the following fruitful offerings:
Duck comfit with brie and Gala apples on crostini
Chicken, fig, brie, and Granny Smith apple sandwiches
Mini apple pie lollipops featuring Macintosh apples
Blue cheese, Granny Smith and candied bacon on crostini
There was also a series of cocktail demos where we sampled the "Apple Collins", and learned how to make an "Apple Martini". For all you shakers – here is the recipe: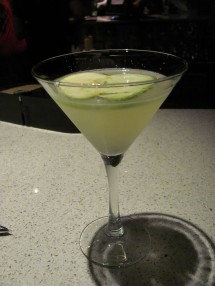 Apple Martini
Fill martini glass with ice to chill
1 oz ginger simple syrup
1oz fresh squeezed lime juice
1 oz Smirnoff Vodka infused with apple
1 oz fresh pressed BC apple juice
1 oz water
Shake with ice and pour into an empty martini glass. Garnish with a thin apple slice.
Giving apples a bit more brain space than I usually do I realized that this is one versatile and powerful fruit, and I wonder why I don't use it more. In fact I have three apples that stare at me every day from the second rack of my refrigerator. Maybe it's time for a little applesauce, pork with apples, apple crisp, or maybe I should even make an apple doll – you know those creepy crafts from the 70's?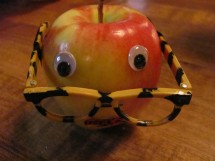 Which brings me to another BC Tree Fruit initiative.  The group is putting some momentum behind the apple with a nationwide competition called The Artful Apple – asking fruit fans to decorate their favorite apple and then upload the works of art to share.  Prizes include an exclusive Okanagan vacation for four. Maybe my apple doll isn't such a bad idea…more information can be found at www.artfulapple.com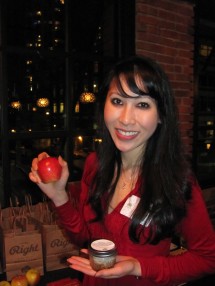 And if anyone can show off an apple it's Mijune Pak.  Everyone who attended took away her "Apple Pie In-A-Jar" –  super cute, tasty, and all packaged in "Follow Me Foodie" style.  She'll be sampling this sweet concoction on February 18th at Salty Tongue from 12:00-2:00pm, so you can try some too.
February doesn't have to be all about Valentines Day, it can be about our love for BC apples – and I know I'm already appreciating them a bit more.