Gluten free, not flavour free
Posted by Tyler Wilman on Wednesday, May 9th, 2012
A few weeks back my mom turned the big 6-0 and I wanted to do something spectacular for her.
I began planning a surprise party with family and friends, complete with my sister even coming across the ocean from Victoria for the surprise.
Planning a menu for 12+ people is hard and exciting enough but the real challenge is that my sister was diagnosed with celiac disease a few years back and is really sensitive to gluten, so this meal needed to be completely gluten free.
I love the challenge of setting parameters when cooking. It allows me to try new things and find unique ways of preparing dishes with other ingredients, giving a completely unique experience with sometimes familiar recipes.
How did I solve this?
The challenge for this meal was not just the gluten free aspect, but since I live in a smallish apartment my space and kitchen aren't really set up to seat or feed more than four. Dishes are also an issue as I don't really have settings for more than six. This meant that the birthday party would be a stand up/social event and I would restrict myself to tapas in the form of finger food whenever possible.
On the menu:
1. Beetroot dip accompanied by gluten free crackers for dipping.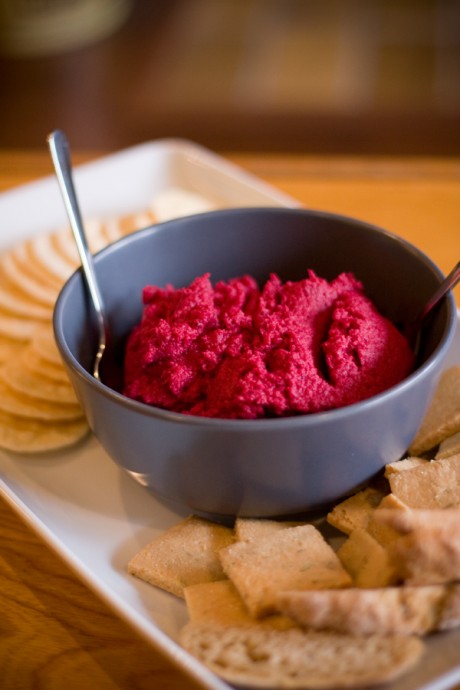 2. Tequila and lime prawns with a cilantro, tequila and lime dipping sauce.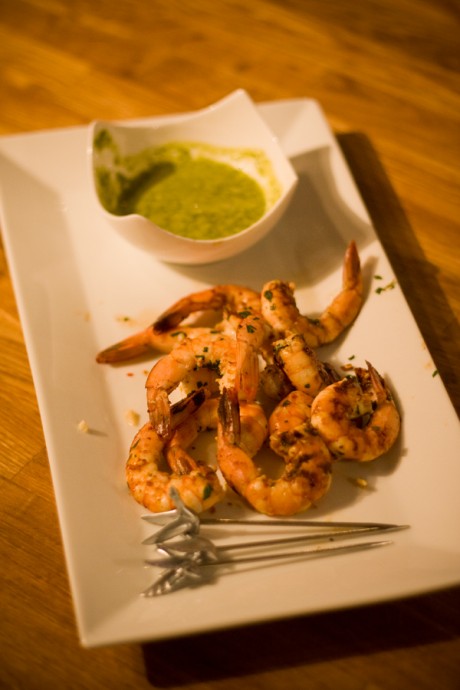 3. Shrimp and coconut fritters (didnt get a photo of this one… sorry)

4. Bacon and blue cheese stuffed mushroom caps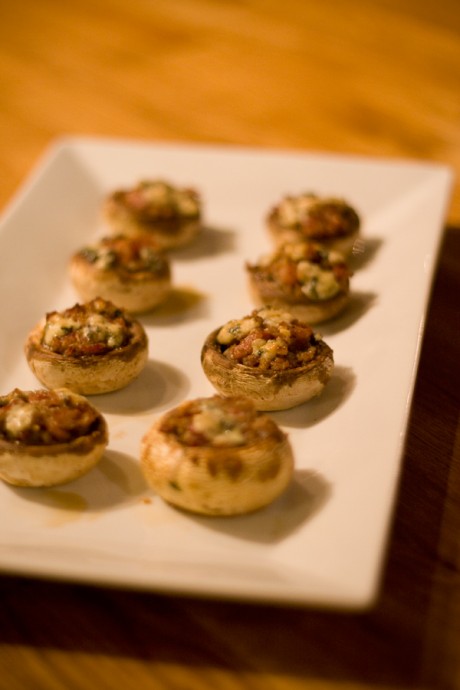 6. Seared ahí Tuna with a pea and asparagus puree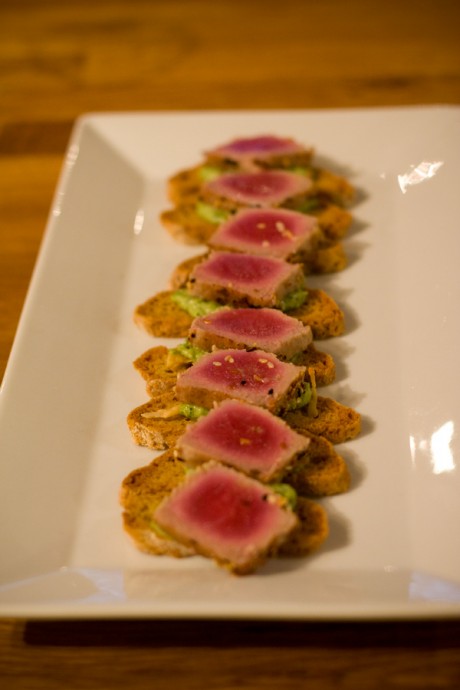 8. Pork roast with home made Mango chutney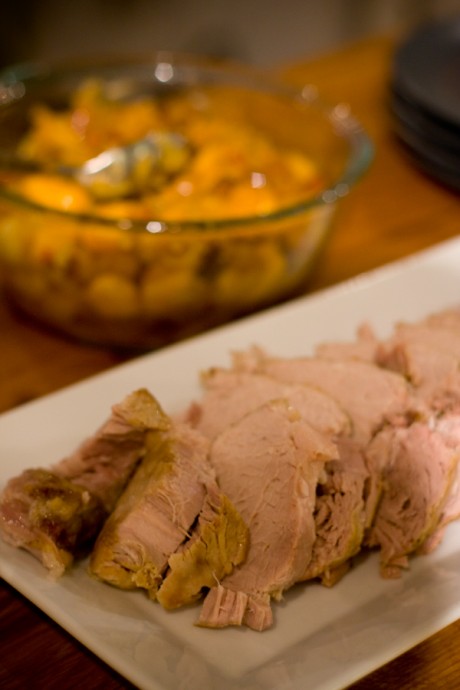 9. Chocolate hazelnut crepe cake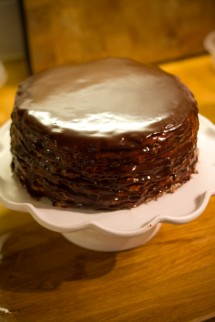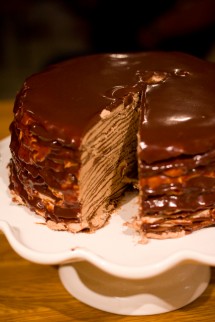 Upon reflection I am really proud of the way I challenged myself to rise to the occasion and provide a meal that people not only loved but could all enjoy without the worry of "what's in it?"
It was also quite easy to substitute certain ingredients to get the desired result.
Below are a few of the recipes used to create the dishes shown above.
Beetroot dip – makes 1 1/2 cups
2 medium beets, peeled and halved
1 cup (250 ml) cooked chickpeas
1 garlic clove, peeled and sliced
2 tbsp extra-virgin olive oil, plus extra
1 tsp salt
1/2 tsp ground coriander
1/2 tsp ground cumin
1/2 tsp lemon zest
1 tbsp (20 ml) lemon juice, plus extra
1 tbsp (20 ml) sesame paste (tahini)
1 pn pepper, to taste
1/4 cup (60 ml) (approximate) toasted sesame seeds, as garnish
1/4 cup (60 ml) parsely, chopped, as garnish
Place steamer basket in small saucepan. Fill with water until just below steamer and bring to a boil. Add beets to saucepan, cover and steam until tender, 10 to 15 minutes. Remove beets from steamer and cool slightly. Grate beets and add to food processor along with chickpeas, garlic, olive oil, salt, coriander, cumin, lemon zest, lemon juice and tahini. Blend until smooth. If dip is too thick, thin with warm water. Season to taste with pepper and lemon juice. Transfer to serving dish and garnish with toasted sesame seeds and parsley. Serve with your favourite crackers, cheese and olives.
Canellini bean salad
2 cup (500 ml) dried cannellini beans, soaked overnight
1 onion, skin on and quartered
1 bay leaf, torn in half
2 cup (500 ml) cherry tomatoes
1/2 cup (130 ml) olive oil, plus extra
1 bn asparagus, trimmed
3 sprigs, fresh thyme leaves, chopped
1 lemon, juice and zest
2 tbsp (30 ml)red pepper flakes (optional)
1 salt and pepper, to taste
Preheat oven to 400 F (200 C). In large pot, cover beans with water and bring to boil. Add onion, bay leaf and sprinkle with pepper. Simmer 40 minutes until cooked, strain and discard onion and bay leaf. On a baking sheet sprinkle tomatoes with salt, pepper and splash of olive oil then roast in oven for 15 minutes. Blanch asparagus in boiling salted water until tender, strain and cut into bite-sized pieces. Combine remaining ingredients with beans, asparagus and tomatoes. Season to taste and serve at room temperature.
Mango chutney
3 cups Mangoes, peeled and cut
1/2 large onion, chopped
1 red Thai chilli, minced
1 1/2 tsp garlic clove, minced
1 1/2 tsp fresh ginger root, peeled and minced
1 cup brown sugar
1/2 cup yellow raisins
1/2 tsp ground turmeric
1/4 tsp ground cardamom
1/4 tsp ground cloves
1/4 tsp ground cinnamon
1 1/2 cups white vinegar
Stir chutney ingredients together in a large saucepan over medium heat. Bring to a boil, reduce heat to a simmer and cook slightly covered, stirring frequently, until thickened, about 45min. Serve with pork.?- Chocolate hazelnut crepe cake.