Lumpia
Posted by Andrea Busse on Monday, September 26th, 2005
Tags for this Article: appetizer, Ethnic, filipino, lumpia, pork, recipe, roll, tapa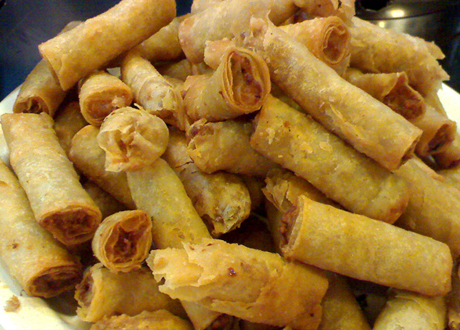 Lumpia is a traditional Filipino appetizer, not unlike eggrolls.
For the Filling:
1/4 cup cooking oil
2 cloves garlic (minced)
1 small cooking onion, sliced
1 1/2 cups lean ground beef & pork, OR 1 cup chicken breast (small strips)
1 cups shrimps, shelled and de-veined
3 cups cabbage, shredded
2 cups green beans, julienne strips (can use frozen French style)
2 cups carrot, julienne strips (or shredded)
3 cups lobo (Chinese turnip) shredded (can use rutabaga julienne strips)
1 cup jicama shredded (can use sweet yam julienne strips)
1/2 cup garbanzos (chick peas)
1/4 cup Chinese parsley
fish sauce to taste
salt to taste
Sauté garlic in oil until light brown. Add chicken (or beef & pork) and onion. Season with fish sauce (not too much). Remove from pan. Repeat the process with the shrimp, but stir-frying quickly and remove from pan immediately. Return the meat-onion mixture to the pan, add in sequences, green bean, garbanzos, carrot, rutabagas, yam, cabbage, bean curd. Add a little stock and allow to simmer until the desired tenderness. Season with salt, fish sauce to your taste. Add the Chinese parsley last, just before removing from the pan. Drain excess fluid and serve immediately.
To assemble the lumpia, you will need:
Lumpia wrapper (commercially available – like super thin crepes)
lettuce (Romaine preferred)
ground peanuts mixed with sugar (optional)
cut-up scrambled eggs (or firm tofu julienne strips)
stir-fried bean sprouts
Lumpia Sauce:
1 cup water
1 cup brown sugar
1-1/2 tbsp corn starch
2-3 tablespoons garlic, minced
Bring the water to a boil. Add the sugar to the boiling water and stir until dissolved. Remove 1/4 cup of the syrup, add the cornstarch, blend into a slurry and return to the pot. Remove from heat when thickened. Mix in garlic.