Chocolate Cupcakes
Posted by Steph Tekano on Monday, February 13th, 2006
Tags for this Article: chocolate, cupcake, dessert, recipe, Valentines Day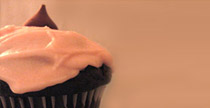 After many batches of cupcakes (no cupcakes were harmed or discarded) and many different variations of ingredients I have found the most delicious and moist cupcakes (Thanks to cafemama.com for the direction). Try out the recipe and let me know what you think. With one day to go, these are perfect for Valentines Day!

ICING
3 cups icing sugar
2 tbsp butter (softened)
3 tbsp milk
2 tsp vanilla
Optional
1 drop of red food colouring (optional for extra cuteness)
—————–
mix 1/2 cup soft butter + 2 cups icing sugar.
add 2 tbsp milk + 2 tsp vanilla + 1 cup icing sugar.
add 1 tbsp milk and mix until smooth.
try not to eat whole bowl before cupcakes are ready.
CUPCAKES
1/2 cup unsweetened cocoa
1 cup flour
1 cup sugar
1 tsp baking soda
1/2 tsp baking powder
1/2 tsp salt
1 large egg
1/2 cup warm water
1/2 cup buttermilk (this makes the cupcakes really moist!)
1/4 cup canola oil
1/2 tsp vanilla extract
cupcake liners
—————–
preheat oven to 350 degrees.
sift cocoa + sugar + flour + baking soda + baking powder + salt into a large bow.
add egg + water + buttermilk + oil + vanilla and whisk until smooth, about 3 minutes.
scoop batter into cupcake liners with 1/3 measuring cup.
bake for 18-20 minutes until tooth pick inserted in middle comes out clean.
let cool for at least 30 minutes before frosting.
makes 12 cupcakes so you may want to double or triple if you want to give some away (they are hard to resist).