Psst. What's in this?
Posted by Matt Pesklewis on Monday, July 17th, 2006
Tags for this Article: italian, Pasta, recipe, Sauces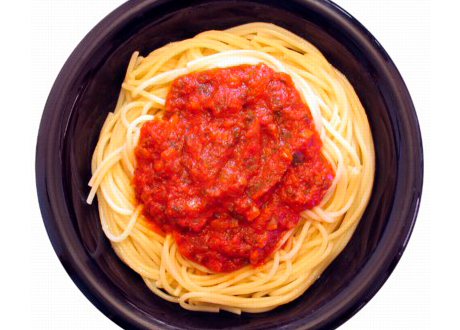 Do you ever find yourself going to a favorite restaurant continually ordering the same dish again and again? Not very adventurous I admit, but there is just something so rewarding about having your food expectations repeatedly met.
It's been over a decade now that I would make a weekly trip to a little Italian restaurant in Boston's North End. Each time I would order the same pasta dish, every time I left satisfied.

On most nights I would sit at the same table and would be served by the same waiter – Alfonso. We struck up a friendly rapport; I would kid him that his Bruins were not doing so well, he'd ask me why I never came in with a girlfriend. That was about the extent of our conversation. Fact is I enjoyed my weekly solitude. It was my meal of reflection, my reward for a good week's work.
I was in my early twenties. I had yet to discover the joys of cooking. Hell I thought that Kraft dinner and frozen peas was a goddamn cooking inspiration on my part. But the more I saw Alfonso for my weekly fix, the more I promised myself that I would learn to cook a great pasta dish. I got bold enough to ask Alfonso for the recipe. Nothing. For two months I would ask. He would respond with a, "do I look like an idiot kid?" kind of glance. It became a little joke between us.
Then the day came when I decided to leave Boston. I must have let this information slip to Alfonso, because when my bill came there was attached a note, it was more a list, and on it read: "Olive oil, basil, garlic, Thai chillis peppers, sundried tomatoes, sauce, black beans and chicken. Enjoy!" That was it. My roadmap. I thanked him. I didn't really know what to do with the paper, but I felt like I had been accepted into a world of food appreciation, and from an Italian in Boston's North end no less. Not something to treat likely.
Well I can proudly say that through trial and error, I have landed on a combination of the ingredients that, while not exacting to my Italian friends in the North End, is a dish that has done the note justice. After more than ten years, I have consumed hundreds of pounds of pasta, had the recipe requested by friends, and even impressed the odd woman with it, my wife being the last of them.
More importantly, it's the dish that got my cooking curiosity started, the dish that introduced me to the joys of experimentation and allowed me to accept failure as a possible destination of enjoying the journey. I hope you enjoy it as much as I have. Feel free to experiment with it, after all, that half the fun. Isn't it?
Ingredients:
A liberal amount of olive oil
A small handful of chopped basil (I like thai basil)
A collection of thai chilli peppers (diced)
A liberal amount of chopped garlic
Chopped sundried tomatoes
Black beans
Chicken breast cubed
1 can of tomato sauce
Sautee basil, peppers, and garlic in oil until aromatic. Add sundried tomatoes and tomato sauce. Let simmer for five minutes. Add black beans and simmer for five minutes. Add cubed chicken into sauce for ten minutes.
Add sauce to spaghetti and stir until fully coated.
Serve with a sprinkle of Parmigiano Reggiano.