Black Squid Ink Pasta? Yup!
Posted by Mark Busse on Friday, December 21st, 2007
Tags for this Article: black, Pasta, sauce, Seafood, squid-ink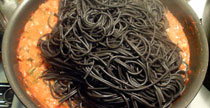 I've never understood those who refuse to sample unfamiliar cuisine. I love trying new things—especially with food. So when I first saw black pasta made from squid ink, I knew I had to try it. Hey, if they can make green beer…
Black pasta is a little expensive compared to the regular stuff, which is a bit odd when you consider all they've basically done is add the normally discarded ink from Cuddlefish to the water and dough while its being made. The resulting pasta has an interesting nutty, somewhat sweeter flavour than normal pasta. It also seemed a little saltier than normal—something to remember when cooking and pairing with a sauce.
For our dish, we created a simple seafood cream sauce with saffron and Parmesan, the resulting light colour providing terrific contrast against the dark noodles. It was delicious and went perfectly with a cold glass of gewurtz. The simple recipe is below so you can try it yourself.
Black Squid Ink Pasta with Seafood Cream Sauce
6 oz. fresh squid ink pasta, pre-cooked
4 oz. lump crab meat
2 tspns olive oil
6 oz. heavy cream
2 tspns chopped garlic
1 pinch saffron
1 tbsp Parmesan cheese
6 baby tomatoes
1 tspn chopped fresh basil
Pre-cook the squid pasta in salted water and set aside. Sauté the garlic until brown in olive oil, then add the cream and saffron and reduce. Finish the basic cream sauce with Parmesan cheese and set aside. In another pan sauté garlic, crab meat and baby tomatoes before folding gently into the cream sauce and toss with the pasta. Garnish with chopped basil. Enjoy!