Taco Quest: Dona Cata's
Posted by Erin Kampf on Sunday, May 6th, 2007
Tags for this Article: dona-cata, mexican-food, review, salsa, Street Food, taco, vancouver-restaurant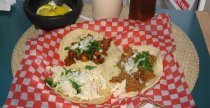 Postings about the taco quest have dwindled as of late, but the quest continues. In fact, the quest has grown in size as Mexican restaurants seem to multiplying like rabbits around this city. I guess I'm not the only one who noticed a gaping hole in our local cuisine scene…
Doña Cata's has been around for a while now, but I only made it there recently, despite a couple of previously thwarted attempts. The service is friendly and the staff speaks decent English. It's small and clean, with some of the food prep happening in plain sight at the back of the room.
I ordered four tacos (well, I actually ordered three, but they were so good I had to have another): pollo (chicken), al pastor (marinated pork), carnitas (pork) and longaniza (sausage). Served as they should be, on top of two small corn tortillas, the tacos were topped with onions and cilantro, and came with a side of lime wedges.
My favourites were the carnitas and the longaniza. The carnitas was so tender, the meat practically melted in my mouth. And the seasonings in the sausage made it stand out from the rest of the meats which are generally very mildly seasoned. The pollo was tender, but I paired it with a mild salsa and ended up with an uneventful mild taco experience. The pastor was a bit dry for my taste.
Definitely the highlight at Doña Cata's is the large selection of salsas, ranging from mild to smokin' hot. There must be at least 8 to choose from, including some unique ones such as peanut. I really wish they would give you little bowls or cups, though, so that you could really dip your chips into the salsas. Spooning it onto a plate doesn't work all that well. But it's fun to experiment with different salsas and pairing them with different meats.
All-in-all, an excellent taco experience. I think my tacos were $1.25 each, so I can't complain about the price. I will certainly be back for more tacos and to try other items on the menu (like mole, yum!).
Doña Cata's is located at 5076 Victoria Drive in Vancouver; 604-436-2232, www.donacata.com