What Exactly Is Foam?
Posted by Alexa Clark on Saturday, June 16th, 2007
Tags for this Article: foam, sauce, steam, Top Chef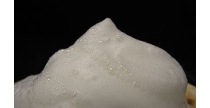 Lately it seems to be frothing up all over the place, but I just don't know what a "foam" is.
I've seen "tomato foam" on restaurant menus, "cherry foam" on a catering menu and assorted "foams" have garnished the dishes of the antagonist on my latest television addiction – Top Chef.
I've only eaten it once (to my knowledge.) I had coconut foam with sea urchin ceviche at Second Harvest's Toronto Taste.  It was excellent.  In fact, the best thing I tasted at the event.
But what is it?
I know what the foam on my morning cappuccino is, but it can't be just steamed milk that creates a "cherry foam". Can it?
Technorati tags: top chef, foam, toronto taste, second harvest