Red Curry with Roasted Duck and Lychees
Posted by Andrea Busse on Wednesday, September 26th, 2007
Tags for this Article: duck, lychee, recipe, red-curry, thai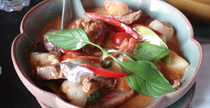 I haven't been to Thailand yet, so I can only pretend that I know what I'm talking about when I say, "This dish is my favourite Thai dish!" Mark says it's the best thing I've ever made. The spiciness of the red curry, the sweetness of the lychees and the saltiness of the duck combine to make a delicious simmering dish.
Take a trip to T&T first because they have all the ingredients in one place. I 'cheat' and buy the roasted duck already prepared. It takes hours off the prep time!!
1/4 cup coconut cream
2 tbsp red cury paste
1/2 roasted duck, boned and chopped
1 3/4 c coconut milk
2 tbsp fish sauce
1 tbsp palm sugar (you can substitute brown sugar if you want)
8 oz tin lychees, drained
4 oz baby tomatoes
7 kaffir lime leaves, torn in half
handful of Thai sweet basil leaves for garnish
1 long red chili, seeded and finely sliced, for garnish
Put the coconut cream in a wok or saucepan and simmer over a medium heat for about 5 minutes, or until the cream separates and a layer of oil forms on the surface. Stir the cream if it starts to brown around the edges. Add the curry paste, stir well to combine and cook until fragrant.
Add the roasted duck and stir for 5 minutes. Add the coconut milk, fish sauce and palm sugar and simmer over a medium heat for another 5 minutes. Add the lychees and baby tomatoes and cook for 1 to 2 minutes. Add the kaffir lime leaves. Taste, then adjust the seasoning if necessary. Spoon into a serving bowl and sprinkle with the basil leaves and sliced chili.
Serves 4 (or two if you are pigs!)
One day I'll make it to Thailand, and I'll let you know how this recipe compares to the real thing!