Elevating Snack Time
Posted by Ben Garfinkel on Monday, October 29th, 2007
Tags for this Article: appetizer, Hornby Island, Sahale Snack, snack, vancouver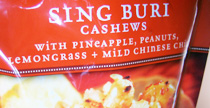 On a recent weekend jaunt to Hornby Island just off the east coast of Vancouver Island, my wife and I were wandering around inside the single small store on the island. We were there expressly to pick up snacks for the afternoon when a compelling display of packages by a company called Sahale Snacks caught my eye. Maybe it was the word "snacks" that grabbed my subconscience by the collar, but I bit.
There are five 'flavours' to choose from, each featuring a signature nut, supporting nuts and seeds, fruit and spices themed around different global/ethnic flavours. For instance, the two that I fell for that day were the Sing Buri and the Ksar blends. Sing Buri is primarily Cashews with pineapple, peanuts, lemongrass and mild Chinese chili and the Ksar is pistachios with sesame seeds, pepitas, figs and Moroccan harissa. You can see how these might appeal to the ardent foodie.
Of the two, my preference was for the Sing Buri and have to say that it went absolutely perfectly with beer. In fact, these little packages of goodness really light up any pre-dinner party snack tray and can be matched quite cleverly with a themed menu. Or, check out the suggestions in the ideas section of their website for salads, crusted goat cheese, pesto and more.
They've also inspired me. I've never bothered to make large quantities of spiced pecans to hand out at Christmastime and rarely do more than toast or candy the occasional nut to contribute some part of a greater recipe, but now I'm thinking about creating some really interesting nut flavour combos of my own.
I've never seen these in Vancouver so can only imagine they are fairly new. It is certainly interesting to find these in such a remote and small location first. I'm keeping my eyes open for them here in town. My guess is they'll appear at places like Capers, Whole Foods, Choices, Nesters maybe Meinhardt's and Urban Fare rather than Safeway et al.