Fettucine with Prawns in a Tequilla & Tarragon Cream Sauce
Posted by Kevin Broome on Friday, January 4th, 2008
Tags for this Article: italian, Pasta, recipe, sauce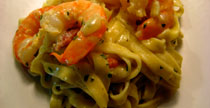 So before we get going on this dish, it should probably be noted that there is some serious heat going into it. But it is a big all-encompassing furnace type of heat that is cut nicely by the cream and lime making it bearable and more 'big taste' than 'big burn'.
Ingredients:
Olive Oil
1 medium onion, diced
2 medium thick slices of pancetta, diced
2 cloves garlic, finely chopped
2 scotch bonnet chillies seeded OR 1 small dried Habanero
1 tomato, diced
2 shots of tequilla
10 -12 prawns
Cream, 500 mL
juice of 1/2 lime
handful of fresh tarragon, chopped
Fettucine noodles (preferably fresh)
Directions:
Heat up the olive oil in a frying pan. Add the onion, bacon, garlic and chillis. Cook until the onion starts to look transluscent.
Add a shot of tequilla and the tomato and stir. Once the alcohol has more or less burned off, add the prawns and cook for two to three minutes until the prawns become opaque. Remove the prawns.
Add the cream. Stir occasionally.
If you are using fresh pasta, now would probably be the best time to throw it into the pot. If you are using dried pasta then I usually drop it in just before I start cooking. The cream at this point can simmer for 5 minutes or 8 minutes, it really depends on how you are doing with the rest of your meal etc.
Return the prawns to the dish. Add the second shot of tequilla. Stir.
Mix in the fresh tarragon.
Just as you are taking the sauce off of the heat, mix in the lime juice.
Toss with the pasta or, if you prefer, serve on top. I like matching this to a light beer like a Stella or Heineken.
Enjoy the warmth.