Arancini Extravaganza
Posted by Ben Garfinkel on Friday, February 8th, 2008
Tags for this Article: appetizer, deli, pizza, Risotto, Seafood, tapenade, Tonina's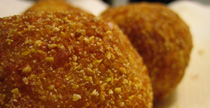 One of my favourite things to do on the weekend is to drop into Tonina's Italian Deli & Cafe in my old neighbourhood at 25th and Main Street. Depending on the time of day I might just be picking up supplies for a homemade pizza, some of the best olive tapenade ever or their fresh, large free-range eggs. Of course a snack would also be in order; maybe a slice of their own terrific pizza, or if I'm lucky they'll have a pile of still warm arancini. What's arancini you ask?

You might know it by the rather pedestrian "risotto balls". I don't need to tell you which sounds better. Typically arancini is made, like other Italian faves such as fried spaghetti, from leftovers. In this case cold risotto. Now, as often as I try, when I make risotto there isn't usually much left over, let alone enough for a new dish. The cold risotto is first mixed with cooked corn and peas and then rolled into a ball about the size of a tennis ball. A hole is poked into it and ground meat that's been sautéed in tomato sauce along with a piece of mozzarella or bococcini cheese are stuffed inside. The ball is closed, dipped in egg white, dredged in bread crumbs and then deep fried. For reference I found a couple recipes online, one from Food TV and the other from Epicurious.
So, a couple Fridays ago we planned to do an impromptu Italian dinner. Mark had a hankering for something with scallops and bacon plus we decided we were going to do pizzas. In a flash of inspiration I suggested we do our own take on arancinis.
We started earlier in the day with a batch of basic risotto (you can use your own favourite recipe, or leftovers if you have it). Since time was a factor we spread it out on a cookie sheet to cool and then put it in the fridge.
Sautée about 10-12 asparagus in some olive oil. Add a little salt and pepper to taste (go light). We also added a little maple syrup for fun. Cool slightly, then chop into pea-sized pieces and mix into cold risotto. Put risotto back into fridge to keep cool.Fry about one half to three quarters of a package of bacon and set aside on paper towel. When cool enough, chop into 'bits'. Discard most of the rendered bacon fat and use to sautée scallops. A variation is to add some tomato, or tomato sauce to the scallops for a marinara version. When done, chop scallops into smaller pieces.
Now, take the risotto out of the fridge and roll into 2-4 inch balls. Mix the scallops and the bacon together, then using your thumb, press a hole into each ball and stuff with a small amount of the scallop and bacon mixture and a bit of your favourite cheese (goat, mozzarella, bocconcini) and close up the ball around it.
Separate the whites from 3 eggs. Dip each ball into egg whites and then coat in bread crumbs (about 2 cups worth; plus we like to add a bit of corn meal to the mixture for added crunch) and deep fry until golden brown (about 2-3 minutes). Drain on paper towel for a couple minutes to avoid burning the hell out of your mouth!
It's a fair amount of work, but worth every mouth-watering bite.