Is Anything More Soothing Than Bacon Corn Chowder?
Posted by Mark Busse on Sunday, January 6th, 2008
Tags for this Article: bacon, chowder, corn, recipe, soup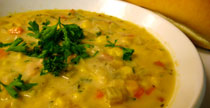 This weekend was cold, wet and lazy as hell. Having a cold with a cough didn't help. By Saturday afternoon I was totally stir crazy and hungry for something warm and soothing. Something creamy with bacon [mmmmm…bacon]. There was no question: I needed to make soup.
After deciding on corn chowder, I went on a hunt through my cookbooks and online for a recipe. There are plenty of versions of corn chowder—everyone claiming theirs is best—so I made note of the most common ingredients, hit the local Safeway and made my own. My way. The result was exactly what the doctor ordered and below is my recipe. It's dead simple. Give it a try.
Ingredients:
6 strips bacon, diced (don't skimp here, buy the thick smoked good stuff)
1 large yellow onion, diced
3 stalks celery, de-stringed and diced
2 carrots, peeled and diced
3 cloves garlic, minced
3 uncooked potatoes, peeled and diced
1 medium leek, sliced
3 ears of sweet corn, removed from cob (save the cobs!)
1 can cream style corn
2 cans chicken stock
1 500ml container heavy cream
1 stick butter
1/2 cup flour
1/2 teaspoon salt
1/4 teaspoon garlic powder
freshly ground black pepper, to taste
pinch of cayenne pepper
2 teaspoons fresh thyme, finely chopped
parsley, finely chopped
Directions:
Remove the corn kernels from the cobs, and place the cobs in a saucepan with the chicken stock. Simmer while preparing other ingredients to create "corn stock".
Sauté bacon [mmmmm…bacon] until crispy and remove from pan. Dice into 1cm square chunks.
Sauté your mirapois of diced onion, celery, carrot and garlic in the rendered bacon fat until onions are translucent. The kitchen should start to smell very good by now.
Create a roux with the butter and flour, cooking for a few minutes before combining with the sautéd vegetables.
Remove the cooked cobs from the stock and discard. Add the corn, diced potatoes and sliced leek to the stock and simmer for about 15 minutes, or until tender.
Add the sautéd vegetables and roux, cream, thyme and seasonings to taste. Simmer for another 20 minutes and serve hot. Garnish with chopped parsley. [I suppose you could garnish with bacon, cheese or sour cream if you wanted to get fancy]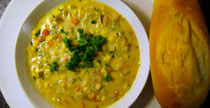 I served my soup with a fresh crusty roll and I forgot all about my cold for a while. My measurements produced enough soup for six large servings. Enjoy.