Matcha Tea Truffles
Posted by Janeen Leynes on Saturday, January 24th, 2009
Tags for this Article: chocolate, dessert, matcha, recipe, tea, truffle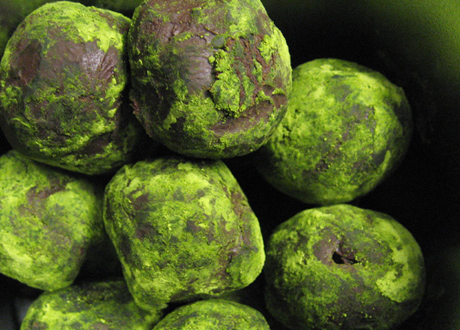 When I think of dark chocolate, matcha tea is something I never considered as a pairing. I first experienced these truffles at Hapa Izakaya restaurant, as a dessert. The combination was so perfect, I couldn't get enough so I thought I'd share how I made them at home.
To make these truffles you need 71% dark chocolate, cream, and high grade match tea powder (I used Herbal Republic). The ganache recipe is really quite simple; after emulsifying the boiled cream and chocolate, the ganache can be cooled overnight. The next day,  take the ganache out of the fridge to bring it back up to room temperature. This allows you to scoop the ganache and roll it in your hands with ease. After rolling the truffles,  put them in the fridge for a few minutes. Once they are slightly cool, roll the truffles in the green tea and you are ready to enjoy. They are best served at room temperature when the ganache texture is smooth and creamy.
Dark Chocolate Ganache Recipe
Note: recipe adapted from epicurious.com.
Ingredients
1 1/2 cups (12 fluid ounces or 360 mililiters) heavy cream
1 lb (454 rams) semisweet or bittersweet dark chocolate
1. In a heavy saucepan, boil heavy cream. Turn off the heat. Add chopped chocolate pieces and let it rest until melted. Use a rubber spatula to stir the mixture until all the pieces are melted.
2. Pour it into a room-temperature bowl and cover with plastic wrap. Refrigerate the ganache until firm.
Storage: Store the icing in an airtight container and refrigerate. The icing will keep for up to 2 weeks in the refrigerator.
Yield: 3 1/2 cups (800 g)
Photo: Steph Co