Phnom Penh: Perhaps Vancouver's Best Asian Restaurant
Posted by Mark Busse on Wednesday, February 11th, 2009
Tags for this Article: Anthony-Bourdain, Cambodian, chinatown, Phnom Penh, restaurant, review, vancouver, Vietnamese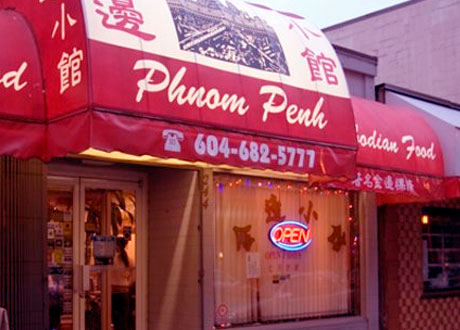 People often ask me about my favourite restaurants in Vancouver, and I always feel like maybe I shouldn't share too much or word will get out and overrun my secret spots—although I did publicly declare a few faves a couple years ago.
There's no question that Asian cuisine is my favourite food to make and enjoy, and perhaps my all-time favourite restaurant in Vancouver is……Phnom Penh. This Vietnamese-Cambodian restaurant nestled just inside Chinatown really has figured out the secret. I can't believe I haven't written more about this place—perhaps I just didn't want anyone to know!
A primary tenet of all successful restaurants, regardless of style or ethnicity, is consistency. And having gotten to know the owners and managers of this family-run business over the years, I highly respect the integrity and traditions behind their bullet-proof menu. Each recipe has been handed down from previous family members through the generations or collected in their extensive travels. I've been eating there for many years and have yet to find a dish disappoint.
Having tried nearly everything there is to offer on their robust menu, my favourite thing to do now is to let Solange or one of her staff order for us, often surprising us with impromptu delights not on the menu, but improvised for us on the spot using whatever is fresh. Things I do recommend you try when there would include the hot and sour soup with prawns, butter beef served nearly raw with lime, soy & fish sauce, tamarind crab, salt & pepper squid, green papaya salad with beef jerky, and of course iced Vietnamese coffee. And if you're lucky and Solange has made her special Cambodian fermented black Thai rice dessert, you're in for a real treat indeed. This chewy, sweet dessert has a beautiful dark cherry flavour—not dissimilar to port really—and tingles on your tongue. It's quite an experience.
When you walk in the door you are greeted by numerous awards on the wall and even a hand-written note on a take out menu by Anthony Bourdain himself (who apparently smoked eight cigarettes and drank four iced coffees in one sitting), that tells how much he enjoyed the best Vietnamese food in Vancouver. And while not the cheapest Asian cuisine in the city, it's certainly a lot more affordable than many of the alternatives and can hold its own against any local fine restaurant. Just don't tell anyone!
Phnom Penh is located at 244 E Georgia Street in Vancouver's Chinatown, (604) 682-5777.