Market Restaurant by Jean-Georges at the Shangri-la
Posted by Lisa Nakamura on Sunday, April 12th, 2009
Tags for this Article: 2009, Jean-Georges, lobster, market, restaurant, review, Shangri-La, soup, vancouver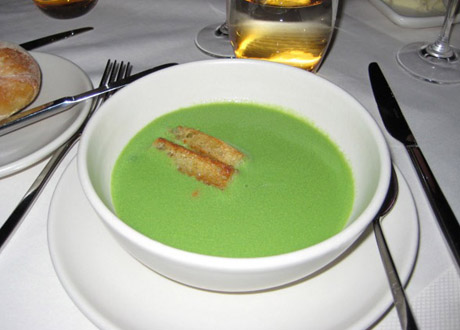 This past weekend I went to Market Restaurant at the Shangri-La hotel. This was quite the highly anticipated dinner for me for a couple of reasons. One, I had to wait a whole month to get in at a prime time on a Saturday night, and two Jean-Georges Vongerichten is a world renown chef in the culinary world. I am happy to say that Market did not disappoint!
I was quite surprised to see that the prices of the menu items were so reasonable and full of Asian inspired dishes. There was a lot of seafood on the menu. I started with the pea soup made of freshly blended snap peas and finished with Crème Fraiche and croutons. This soup was so delicious I was surprised that it had a vegetable broth. My friend ordered a salad, which was very large – almost meal size if it had some protein, and my husband ordered the tomato soup, which he said was delicious.
For our mains I had the seared sirloin with gingered mushrooms and soy-caramel sauce. My husband had the lobster with gnocchi, smoked butter, lemon and was finished with a bit of jalapeno peppers for some kick. We loved the dishes we ate and again were very surprised at how generous the portion sizes were.
There was really only one thing that bugged me about this restaurant. If you are going to book for a table of 6 or more people you have only the choice of an early seating at 6:30 pm or a later seating at 9:30 pm.
Market restaurant is located on 1128 West Georgia Street, Vancouver, B.C. V6E 0A8
Canada, T: (1 604) 689 1120.