Harrison: Dining
Posted by Degan Walters on Sunday, May 10th, 2009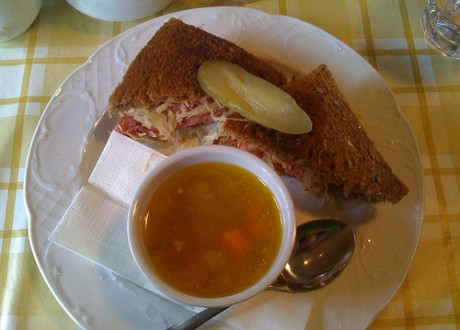 While you're off on the Circle Farm Tour of Harrison, all the snacking on locally grown and made products might make you want to tuck into a more substantial meal. It used to be that Harrison was a bit of a culinary wasteland, with not much quality fare between the resort and the schnitzel at the Black Forest but now Ravens on the Beach at the Harrison Beach Hotel offers a more modern approach to dining in the area.
Right on the edge of the lake, it's a trendy restaurant with a focus on local flavours. The menu covers everything from burgers to Dungeness crab for two, paired with a small but well-chosen wine list. I had the Yarrow Meadows duck breast with mashed potatoes and a glass of Red Bicyclette Syrah and wandered off to my room after dinner without any complaints.
A little farther away from the lake is the Kilby Historic site, with an onsite tea-room, Harrison River Restaurant. It used to be one stop shopping for visitors to the area in the 1920's;  general store, train station, hotel, post office, and pharmacy. Now there is a museum and grounds with animals for children to interact with, but the best part is the lunch.
They make all their own scones and bread themselves, as well as soups, pies, lemonade, and ice tea. Jo, the curator, did such a good sell job of the hand-squeezed lemonade that almost every member of our large group ordered one and went to give the bad news to the kitchen.
My Reuben sandwich was the best I'd had in quite a while and the vegetable soup was tasty as well. We didn't have time to stay for pie, which is too bad since I bet it's fantastic.
To get to Kilby, take the No.1 to Sumas Exit 92.  Travel north on Highway No.11 through Abbotsford and on to Mission, then turn east on Highway No.7 (Lougheed Highway), following signs towards Harrison Hot Springs. As you get closer to Harrison Mills you will see the Kilby Store & Farm sign. Turn right on School Road just after the Harrison River Bridge and then right again on Kilby Road.
They're open Thursday to Monday for lunch but check it out for Thanksgiving dinner, where you get a full (homemade) spread for $15.