Beef Stroganoff
Posted by Jules Morgan on Wednesday, April 15th, 2009
Tags for this Article: beef stroganoff, recipe, Ukranian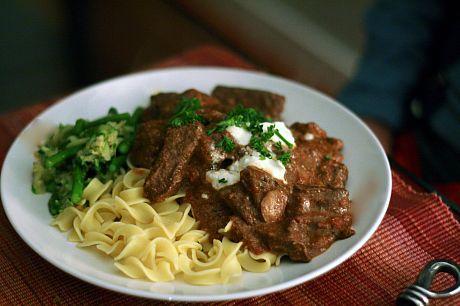 Stroganoff was one of the first recipes I learned through instinct, passed onto my mother through my Uncle Mike, a Ukranian neighbor in Calgary (who was also responsible for my early addiction to homemade perogies). It was never written down and the ingredients were never measured, it was a dish that was felt, rather than followed, my mom working through the recipe in her head.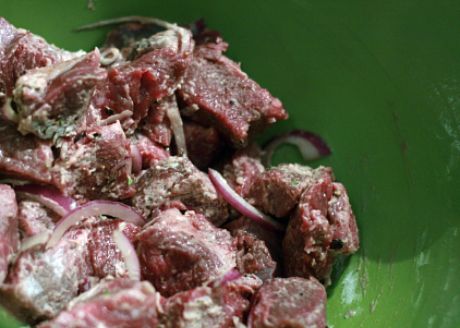 There was always something special in cooking side by side with her, watching her dice the beef, then gently flour and season it in a large bowl. My job was always to peel the mushrooms, slowly and carefully pulling away the ir woody skins. They would then be thickly sliced, ready to be added when the stew was just so.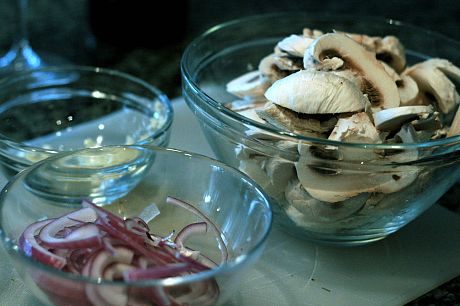 The beef would then be seared, along with some garlic and an onion, spitting and hissing as it hit the hot pan.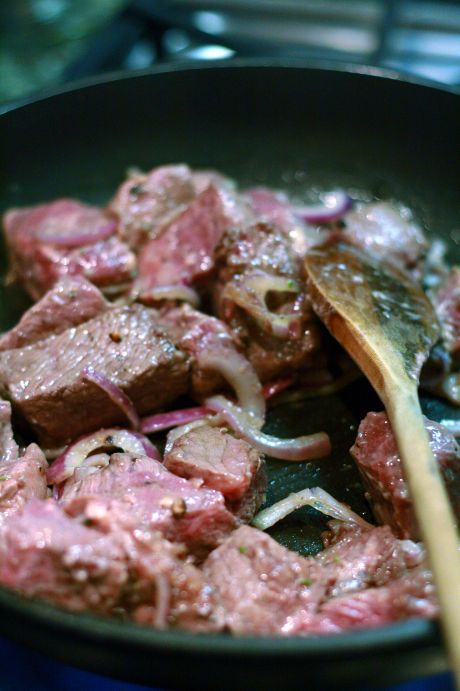 Beef stock and a little tomato paste would be added, and as the stew would simmer down and thicken, she would spoon in glistening sour cream.  Finally steaming bowls of rich yellow egg noodles would be dished out and topped with the rich stroganoff.
Over the years I have experimented with this recipe, adding rosemary and red wine, marinating the beef in cognac or substituting shallots or leeks for the onions. It is the best thing about preparing a dish you are almost intimately familiar with, that no matter how often the dish is made, there can always be that extra added ingredient.
You can serve this stroganoff over fresh egg noodles or creamy mashed potatoes, topped with some more sour cream and fresh parsley. I always serve this dish with some greens, usually asparagus sautéed with olive oil, salt and chopped almonds.
1 lb beef fillet, cubed
½ cup cognac, plus 2 tablespoons
Freshly cracked black pepper
Pinch salt
1 red onion, sliced
Flour
1 clove garlic
2 tablepoons fresh rosemary, chopped fine
1 cup beef stock
1 tablespoon tomato paste
1 cup mushrooms, sliced
In a large bowl, season the beef with the 1/2 cup cognac, freshly cracked black pepper, salt, rosemary, ¼ of the onion, ½ clove garlic. Set aside to marinate for at least an hour. Before searing the beef, add enough flour to the bowl to coat the beef. Add some oil to a pan and sear the beef with the rest of the onion and garlic. Pour in the beef stock and the remaining cognac, cover and simmer, as the meat tenderizes add the tomato paste. About ten minutes before serving, stir in the mushrooms and the sour cream, season.
Serve & enjoy.