Salt Spring Island Foodist Tour
Posted by Degan Walters on Wednesday, April 15th, 2009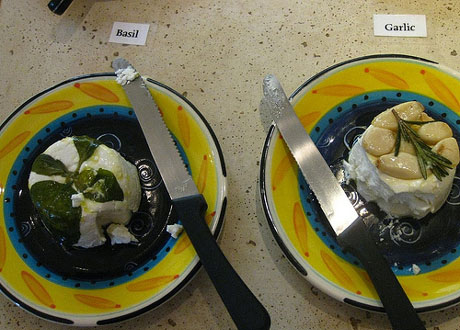 In trying to narrow down destinations for a recent city break, my only real requirements were that there had to be something good to eat. That meant Chilliwack was out (although go a little farther and I've had a mean grilled cheese sandwich in Hope) and we finally settled on Salt Spring Island. I have fond memories of grazing in the Ganges Market and further planning resulted in the happy discovery that we would be there for opening day.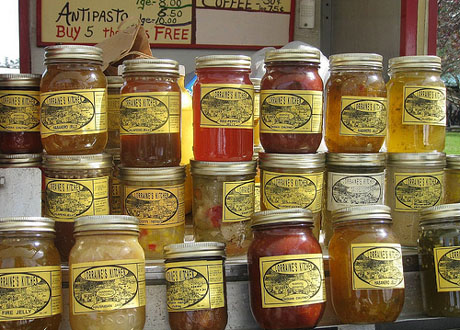 Barely out of the car and I was in front of Lorraine's jam stand. This woman not only makes some fine jams and jellies but she also makes horseradish, mustard, all kinds of all chutneysand pepper jellies. My favorite is blackberry jam which not at all sadly only comes in a big jar (I should have actually gotten two) but there are some seriously delectable flavour combinations. Hawaiian, pear-ginger, kiwi, etc. that beg to be sampled.
Luckily, they can be sampled. In a bit of marketing genius, Lorraine and her crew make doughboys (a.k.a. elephant ears, a.k.a beaver tails) on site and for $3.5o you can try all the jam you like. Unsurprisingly, she was doing a roaring business on both and had gone through 7 of her 8 buckets of dough by the time we got there in the early afternoon.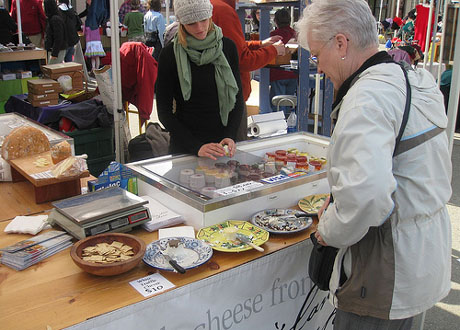 We took at look at David Wood's Salt Spring Island Cheese stand, but didn't buy anything because we planned to visit the farm later and there was a tasty looking Indian food and noodle bar that we just didn't have the stomach capacity for, but which I bet is a weekend staple for locals. We did make room for some smoked albacore tuna samples which were an amazing snack and an easy sell, along with some smoked salmon for dinner.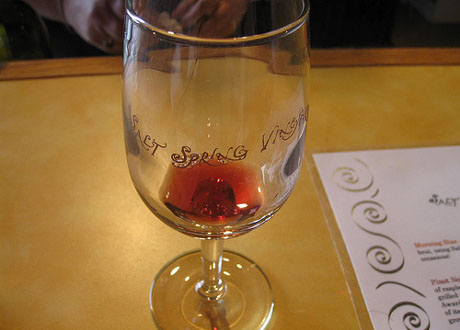 There was no chance of skipping Salt Spring Island Vineyards and while they didn't have many bottles available to sample, we loved the Millotage (Salt Spring grown Leon Millot and Marachel Foch) and the apple pie dessert wine made in the ice wine style.
The Salt Spring Island Cheese Company is tucked away down a winding road. Sheep grazed in the pasture and chickens were hanging about on both sides of the wire mesh fence. You can walk around the building on a self-guided tour and peer in the windows at cheese-making in action. Each window showcases a different stage of the process and at the end of the tour (if you can make it past the beautiful fetch-happy border collies) you can sample all the different kinds of chèvre made on site.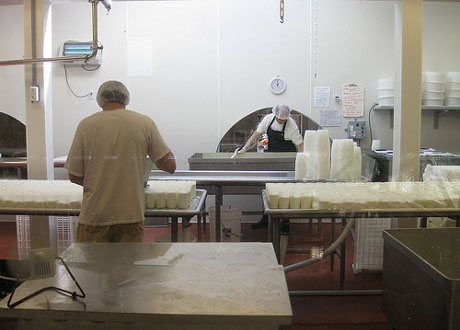 I think they weren't expecting that I would sample one of everything, but it was hard work playing frisbee with those dogs and that cheese is delicious. I bought some chili goat cheese, lemon goat cheese, hard montangne and soft Blue Juliette plus a loaf of bread and I have to say that not all of it made it off the island with me. The chili chèvre smeared on hunks of bread was devoured in the ferry line up and that Blue Juliette? Delicious on a baguette with some of Lorraine's pear-ginger jam. Guess I'll have to go back.