Chandi Restaurant – Bali
Posted by Doc on Saturday, May 2nd, 2009
Tags for this Article: asian, Bali, Chandi, indonesian, New York
Wow. The Discovery Channel uses the slogan 'The World is Just Awesome'. If I could describe my two dinners in a row recently, I would rework that slogan for Chandi restaurant in Bali. I've been fortunate to travel Bali a few times and have dined at some great restaurants there, many are continual favourites – Chandi, however,  is the new star in my book. 
Chef Agung, originally from Indonesia, is a star in his own right. Having a hand in running a few well known restaurants in NYC, namely  Nobu, Budakan, Spice Market, and Perry Street, Agung brings some of the best of NYC to Bali. Coming back to his homeland, Agung felt the need to re-experience the foods, scents and textures of Indonesia. After he and his wife became pregnant, they decided to call Bali home. Sitting in the heart of  Jl. Oberoi which is commonly known as 'eat-street', Chandi is considered one of the new kids on the block having just opened in August of 2008.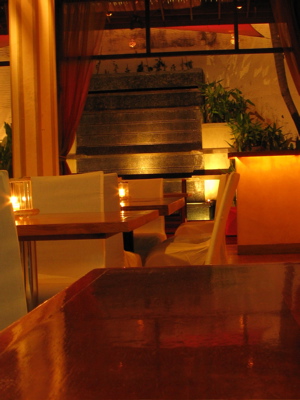 The menu is divine. A story of two cities really… New York City meets Bali, has a hot and heavy orgy, and creates the most tastiest offspring imaginable. Intensely, exotic flavours, controlled and artistically presented, Chandi delivers. Unlike the many pan-asian restaurants that exist, Chandi opens a new door by bringing balinese flavours to the cosmopolitan frontline in a way thats approachable and unpretentious. My first night started with their Spicy Watermelon Gazpacho – delicate melon balls in a clear, cool broth, with a hint of indonesian spice was pure refreshing joy in the humid heat of Bali. Seared Tuna Tartare Manadonese Rica Rica was next on my list. A perfectly torched tuna tower with fried capers, avocado, lombok chili, and organic herbs. They had me at Rica Rica. My lovely started her dinner with the Spicy Exotic Fruit Salad. Mango, papaya, pomelo and dragon fruit with organic field greens with lime chili rice vinegar dressing. Exotica. She then followed up with the 'Amazing Crunchy Tofu Squares'. Crispy fried tofu with a roasted pine nut dressing and julienne cucumber salad. The new dynamite roll of tofu. Chandi Layered Pecel Wonton would come next. A kind-of gadu gadu lasagna would be the best way to describe this little guy. A mix of fried leeks, been sprouts, string beans and tofu in a peanut dressing sandwiched between layers of crispy fried wonton. I'm not a vegetarian but this dish could easily convert the t-rex's in the world. 
Chandi apparently has plans to open a restaurant back in New York City in the near future. If the one in Bali is any indication of what to expect, NYC will surely be in for a treat.