Cookbook: Deceptively Delicious
Posted by Stephanie Co & Todd Smith on Saturday, May 2nd, 2009
Tags for this Article: cookbook, fun, kids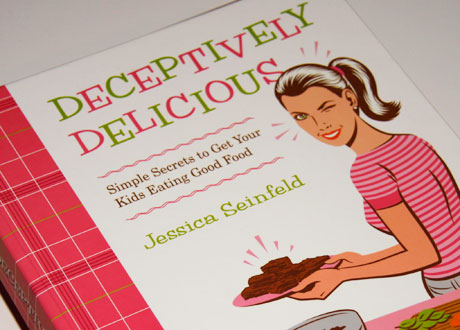 I'd be lying if I told you that I liked healthy food as a child; but at the same time, I remember my father forcing himself to eat carrots and broccoli—which he hates—and my mother slipping pureed onions into every conceivable dish. Those days are in the past, but even while using the title "foodists" Steph and I have noticed a remarkable lack of balance in the food groups that comprise our diet. We'll confess—as I'm sure many of you can—that in a busy schedule, great food or delicious food is not always the most healthy choice.

It was that knowledge that sent us searching for healthy solutions and as cliche as it may sound, "sometimes mothers know best." The other day we stumbled into Williams-Sonoma on south Granville and after a quick glance around, both Steph and I instantly honed in on and began mulling through the pages of a cookbook titled, "Deceptively Delicious: Simple secrets to get your kids eating good food."
It may seem odd, but this book is a refreshing "back to basics" experience. We often find ourselves caught up in the quality, price, and origin of the goods we purchase, striving for specific pairings and unique textures, but sometimes a simple, unsophisticated solution is all it takes.
We ended up purchasing it for $20 less down the street at Chapters. While some of the recipes are a little "too simple", there are some hidden gems like Sweet Potato Pancakes, Tofu Nuggets, and Blueberry Cheesecake Cupcakes that will not only satisfy your child within, but offer an interesting throwback to delicious home-cooked cuisine and mothering ingenuity.