Hey Pare, Kumusta na?
Posted by Stephanie Co & Todd Smith on Sunday, April 22nd, 2007
Tags for this Article: burger steak, fast food culture, filipino, Jollibee, joy, Travel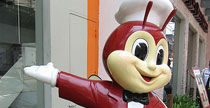 Two months ago if anyone asked who Jollibee was I would have wondered what they were talking about, but this polite gent has become a mainstay in my daily Filipino dining. I remember quite well after touching down in Manila, Steph explained Jollibee's likeness to McDonalds with the exception that the food is much better. I can contest however, McDonalds in the Philippines is better than Canada but it in no way scratches the surface of the dishes served by this 100% Filipino fast food chain. Yes, it's time for a review.

The first time I stepped through the doors of Jollibee I noticed two things; everyone was staring at me because I was the only white person in a 100 mile radius and secondly, the menu. It was just after noon and Steph said the following, "This is Jollibee, you can have Spaghetti or you can have chicken… or you can have both." I was a little confused as the menu has only Chicken, Spaghetti, and Burgers; not exactly, but the names of the dishes are what make the great taste even better. I've become accustomed with Chickenjoy(one or two piece, served with gravy and also rice that is wrapped like a burger at McDonalds), Jolly Spaghetti(with sauce and sausage that is deliciously intoxicating, you just get hooked on it… fast), the Champ and Yum Burgers(A regular burger, except different, in an awesome Filipino way), the Aloha Burger(A burger with a slice of pineapple in it), and last but not least Palabok(Stir-fried rice noodles, topped with ground pork, a hard boiled egg, diced green onions, and a splash of Kalamansi juice).
For breakfast (or Breakfast Joys) I've only tried the Tapsilog(Thinly sliced salted beef and rice) and the Longganisa(Filipino-style pork sausages, served with rice), but both of them have equally carved their way into my heart… so far past an egg McMuffin I can't even remember the taste. I guess the best way to summarize it is as follows; I haven't eaten fast food for about three years and Jollibee has somehow converted me. It's fast, it's tasty and quite a bit more healthy than the alternatives; after returning from Thailand after only a week away from the Philippines the only thing I could say when Steph asked me what I wanted for lunch was, "I want Jollibee… in my belly."